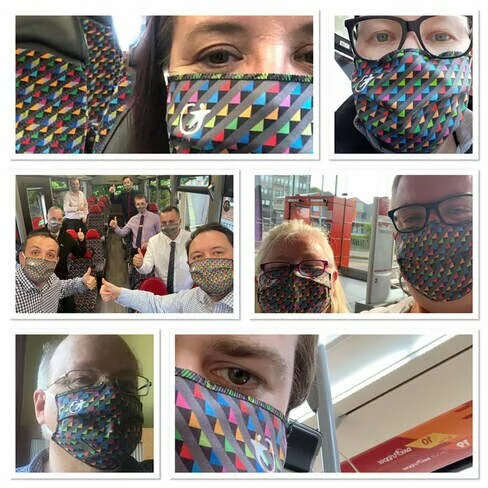 The requirement to wear face coverings whilst travelling on buses and also whilst at the railway station and on trains has prompted bus group Transdev to launch its own, unique, face coverings. We think though that we should remind passengers wearing them that they rick blending into the seat! The face coverings carry the same design pattern as the seats on some of the buses!

Alex Hornby, Transdev UK CEO told us:  "The latest government guidance is a simple 'ask' of our customers, so everyone can travel with peace of mind. We've always set out to make our buses places people want to be seen, and the same unique touch of style we've become famous for has gone into creating unique face coverings, which are be available to our customers from at our bus stations in Yorkshire and Lancashire".

Recognising that the Transdev face coverings could become a much sought-after item, Transdev is also making them available through an on-line 'pop-up shop'. Visit shop.transdevbus.co.uk.

Proceeds from the sale of the 'All the colours of Transdev' face coverings will go to NHS Charities Together. 
The Transdev face coverings are washable and reusable. They cost £2.50 each from Transdev travel shops and £4.50 each from the online shop.
​
We do think this is a great way of promoting an important travel message so well done to Alex and his team.

---