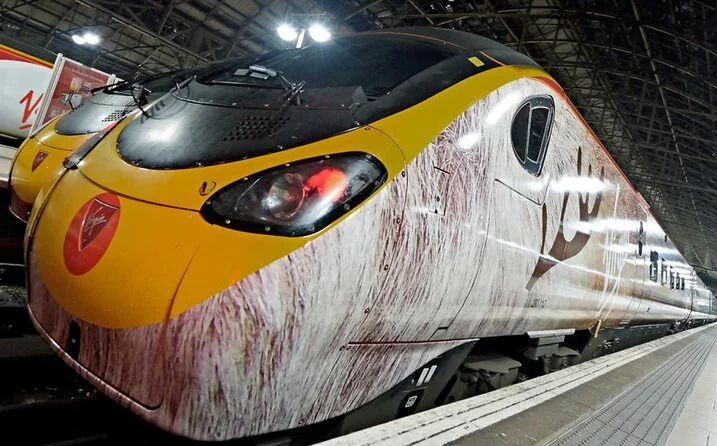 Yesterday we looked back to 2001 when Virgin Trains staged a Christmas event at Bombardier's Wakefiled factory. Today we fast forward 13 years and to what is a high-impact Christmas theme for 2014 - The Virgin Traindeer! The brandd Pendolino train is turning heads as it heads up and down the length of the West Coast Main Line and full marks to Virgin for entering the spirit of Christmas and also taking the bold move to brand the train.
Virgin explains the background.
Sisters, Ella and Ruby Prior from Congleton, Cheshire have had their artistic vision brought to life as Virgin Trains unveile a "Traindeer" on its network, the look of which was inspired by the design submitted by the girls for a Christmas card competition.
The Pendolino train was given the full festive treatment and was transformed into a reindeer (complete with a red nose!). The two girls saw their design on the Pendolino earlier this week at a surprise reveal at Manchester's Piccadilly station
Ella, aged 11 and Ruby, aged 9 were whisked off to the station by their parents without being told they had not only won the competition, but that the design had impressed judges so much, Virgin Trains had taken steps to actually create their vision for a real-life real Traindeer. They found out the good news when the decked out train pulled into the platform they were standing on, with Father Christmas himself stepping off to congratulate them.

---