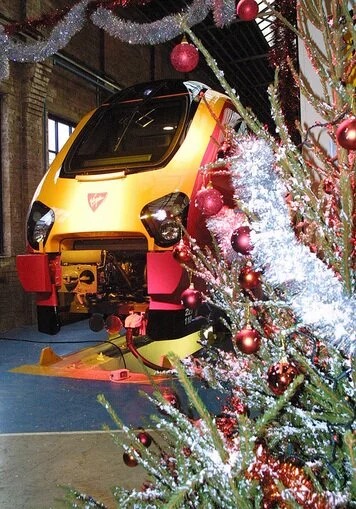 I am frequently asked what was my most memorable railway PR event and having covered them for over 20 years as a journalist, and managed them for some 12 years as a railway PR professional it is not easy to pick a winner. The events I attended were many and varied, but the resumption of loco-hauled trains to Pwhelli following the restoration of Barmouth Bridge in the mid-1980s has to be up there as one of the best remembered. InterCity's Special Train Unit Land Cruises were also really enjoyable and riding in the cab of a Class 91 during a 140mph run on the East Coast was something else. And then there was the coverage of train catering.... (well, I had to taste the product!)
Having joined Virgin Trains in 2000 there were numerous event around the introduction of the new trains and every possible opportunity to get media coverage was exploited. Positive coverage in the Trade Press help balance the negative views of the mainstream media and the early years were all about the new trains and the transformation of the business.
My former Editor at RAIL oft remarked that Virgin had staged more new train launches than it had new trains, but it was all about marking key milestones and engaging with local communities. This was not just on the West Coast as the CrossCountry franchise gave Virgin exposure on the East Coast north of Doncaster.
So December 16th 2001 was one of those milestones when the opportunity was taken, jointly with Bombardier, to profile the facilities available at the train builder Wakefield site and provide an update on the Voyager and Super Voyager trains. As it was December (the 16th actually) a Christmas theme took centre stage in one of the workshops at Bombardier Wakefield which saw a Class 220 named Yorkshire Voyager and a Class 221 named James Cook.
This was a typical railway PR event of the era with a real Virgin feel, which don't really feature in today's railway. These were expensive events to stage but raised the profile of the business and the railway in general but were also about establishing Virgin as part of the privatised railway. Now the focus of PR across the industry has changed and lower spend events can equally bring high levels of exposure, promotre the business and ideally increase revenues but there is nothing wrong in looking back at events of the not too distant past. We might do the same again in the future.

---
Images are Virgin Trains Press photographs which were issued after the event