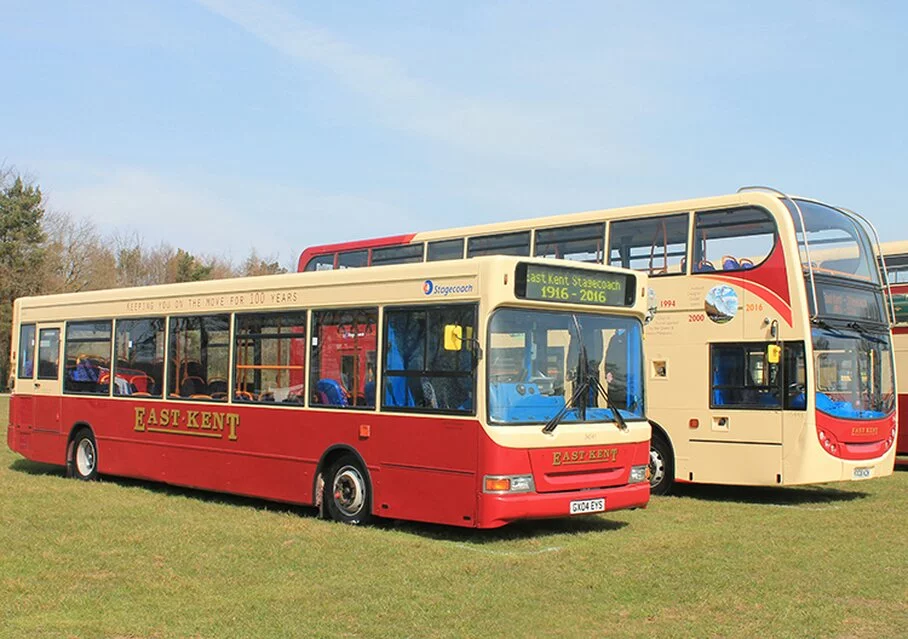 Stagecoach South East marked 100 years of service at the south east's annual bus festival. The Kent Showground at Detling hosted over 5,000 visitors on April 2nd and 3rd for the region's sixth annual bus festival and heritage transport show.
It is always good to see bus companies recognise their heritage and Stagecoach South East Managing Director Philip Norwell who recognises that the past has shaped the future for bus operations.
The main theme of the event was the centenary of the formation of the East Kent Road Car Company – still operating buses today under the name Stagecoach South East. To mark the occasion, Philip Norwell, the company's managing director, unveiled two buses specially dressed in commemorative liveries; a single deck Dart SLF vehicle (34541) wrapped in the original East Kent maroon and cream, and a double deck Scania/Enviro 400 bus (15443) featuring a commissioned design to mark the centenary year. From this week both buses will be in general service around east Kent.
Mr Norwell said "The Company began operating buses half-way through the First World War. Back then we had a fleet of 72 vehicles operating a million miles a year; today we have nearly 500 buses and coaches running over 21 million miles a year.
"Having reached the milestone of 100-years it's clear that this is the story of a company firmly rooted in the communities that it serves. It's the story of a business that adapts in innovative ways to changing times and continues to invest in the service it provides.
"Now, at the company's centenary, we celebrate our history while looking forward with confidence to the challenges of the future."
As a guest speaker at the festival Mr Norwell took the opportunity to announce a £6 million investment in new buses for the east Kent fleet. He said "We continue to see an increase in the number of people using buses in east Kent and we want to ensure that they benefit from modern, comfortable and environmentally friendly vehicles. Thirty brand new high-spec double deckers will be joining our fleet in a few weeks time."
The next date in East Kent's centenary diary will be the 7th August, the actual anniversary week, when the company will be showcasing buses and memorabilia at the Herne Bay bus rally. Stagecoach will also be opening a new 'state of the art' bus depot near Herne Bay later in the year.


---