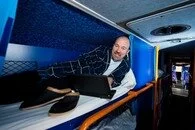 ​Stagecoach has announced that it is scrapping its Megabus Gold overnight sleeper service between London and Scotland.
The last services will operate on 21st May 2017.
Stagecoach started Megabus sleeper services in 2011 using articulated Jonckheere Mistral coaches. In 2013 a fleet of Van Hool Astromegas entered service and the service was rebranded MegabusGold.
Stagecoach said: "The services - which launched in 2013 - represented an innovative and new travel product and have helped provide a value-for-money long-distance transport option over the past four years. 
"While the services have proved popular with a loyal core base of customers, unfortunately the overall level of demand has been below the level required for us to be able to continue the routes. 
"The long-distance travel market is extremely competitive, and we have faced strong competition from low-cost airlines, rail services and the private car benefitting from low fuel prices".
There is no indication yet on what will happen to the 13 sleeper vehicles in the fleet, although three of them have been in the driver training fleet at Cwmbran, Rugby and Cumbernauld for some time and not used in service.
---