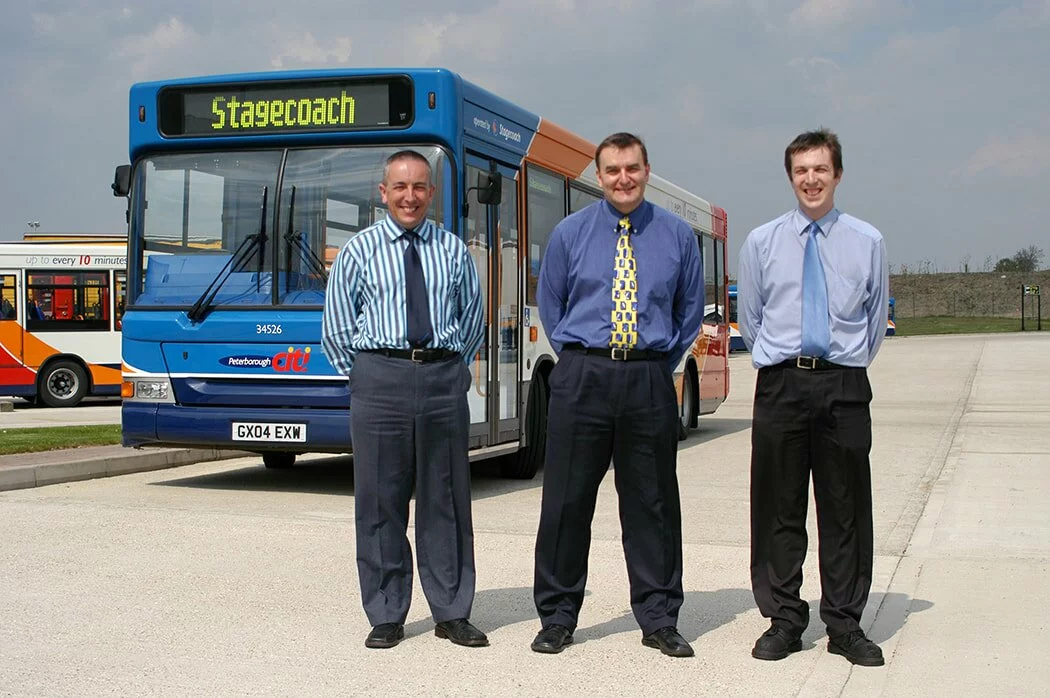 We had picked up on the 'grapevine' a few weeks ago that Bob Dennison, Managing Director at Stagecoach South West had left the company. Now we have confirmation in a statement issued locally rather than at Stagecoach Group level.

We wish Bob well for the future. He has always been approachable and assisted whenever we have had any fleet queries both in his time at Stagecoach East and latterly during his time at Stagecoach South West.

We first met Bob back in 2004 when, as Engineering Manager at Peterborough depot, he oversaw the engineering elements of the introduction of into service of 20 Dart SLFs to launch the Peterborough Citi network.

Bob was very aware of the impact that good media and PR could have on the business and pro-actively supported the then Commercial Director Philip Norwell and MD Andy Campbell in creating impact. It was a real pleasure working with Bob and his engineering team to get a series of photographs that showed the impact of the investment in 20 new buses. 
​
Bob has had a 25-year bus industry career, 20 of those with Stagecoach. 

He began his bus industry career in 1994 as an apprentice mechanic in New Zealand before starting work with Stagecoach in Hull.
In 2000, Bob achieved a place on Stagecoach's Staff Development Programme, and subsequently moved to Cambridge as Engineering Supervisor.

He then had a spell as Engineering Manager at Peterborough depot before returning to Cambridge depot as Engineering Manager. Bob was appointed Engineering Director at Stagecoach East in 2008.

For the last four years, Bob has managed Stagecoach's South West of England business, which runs local bus services across Exeter, East Devon, Torbay, South Devon, North Devon, Somerset and into Cornwall and Dorset.

Mark Threapleton, Stagecoach Chief Operating Officer, said: "I would like to thank Bob for the contribution he has made over many years at a number of companies across Stagecoach, including in the south west. We wish him well for the future."
​
Mr Dennison said: "I've greatly enjoyed working with the team at Stagecoach South West, and with colleagues across the wider business, over the past two decades and I will look back fondly on the many achievements that I have been part of. Stagecoach has been a huge part of my life, but the time has come for a different focus and I'm looking forward to new challenges ahead. I would like to thank all the people I've worked with at Stagecoach over the years for their commitment, assistance and support."
 
Mike Watson, who was previously Stagecoach regional director for England and Wales and who has most recently been working with the business development team, has been appointed interim Managing Director, Stagecoach South West, while a formal recruitment process takes place.
---