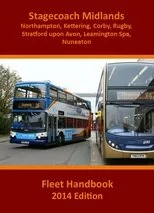 Our latest Fleet Handbook covering the Stagecoach Yorkshire fleet is now with the printers and copies should be available from 28th February 2014.
Work is now turning to the Second Edition of our Stagecoach Midlands Fleet Handbook which will is being scheduled for publication in May 2014. The Stagecoach Midlands book has been one of our more popular Fleet Handbooks and since publication of the First Edition last year the company has invested heavily in new vehicles for it local bus and Megabus operations.
Next in line for a new edition is our East Yorkshire Motor Services book, which will be published in August 2014 to coincide with the Company's Big Bus Day charity event.
Due later in the year will be a Stagecoach Oxford Fleet Handbook. Publication date for this book is still to be decided.
We are also working on a new Midland Red photo album. 'More Midland Red Memories' will include many unseen images from Coventry-based transport photographer Ken Crawley. We don't have a publication date for this yet.
---