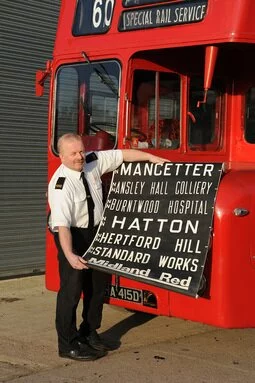 When I joined the bus industry in 1974 they electronic destination blind for buses was merely an idea and buses and coaches countrywide were fitted with roller blinds, which had to be manually wound by the driver or conductor. These were traditionally printed on linen, but over the following years a tear proof paper-type material called Tyvek was used.
Changes to the destinations on the blinds were kept to a minimum, but there was an option to cut the blind and splice in additional names. I recall that at West Midlands PTE this was done four or five times and then a new blind was manufactured.
What wasn't evident at the time is how scarce some of these early linen blinds would become. Many with 'old style' fonts and even art-deco style lettering were consigned to the rubbish bin when no longer required, or handed over to the paint shop. They were ideal for using to mask areas on buses that didn't need painting. I even used one on the stairs at home when painting.
If only I had kept them. Looking at ebay there are hundreds of sections of printed destination blinds up for stale, now seen as artwork. It is still possible to buy some full destination blinds but there are becoming rare.
There was also major differences on how the blinds were laid out between operators. Many had the destinations grouped together which meant there wasn't far to wind the blind and key destinations were repeated several times. Others went for an alphabetical style which could give the driver or conductor arm ache winding from top to bottom of the blind! That may account for a greater use of generic destinations, although Service, Relief and Service Extra were also frequently used if the actual destination was not on the blind!

---