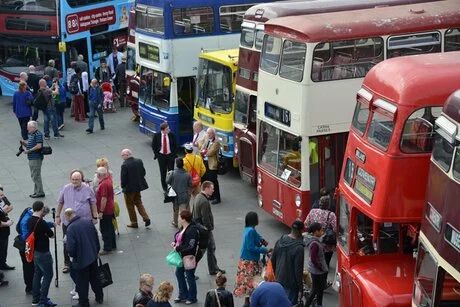 Thousands of visitors are estimated to have visited the celebration of motor bus services held in Coventry on Sunday 30th March.
Buses that had operated in the City were on display with some of those that were built in Coventry by Daimler Motors.
The event celebrated 100 years since motorbus services were first operated by Coventry City Transport. It also marked 40 years since Coventry Transport operated its last bus services on March 31st 1994, operation of the city's bus services passed to the West Midlands Passenger Transport Executive the following day.
A selection of the buses also operated free services over local routes and the Midland Red D9 owned by Wheels/Midland Red Coaches recreated an old service 159 journey from Coventry to Meriden. Midland Red operation on the route finished in December 1973 when the services in the West Midlands county passed to the West Midlands Passenger Transport Executive.
Organisers estimate that over 2,000 passenger journeys were made during the day on the shuttle services.
---