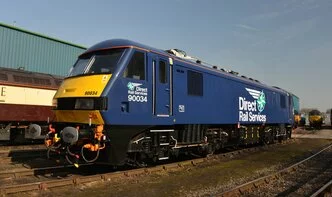 Direct Rail Services has unveiled a Class 90 locomotive in its distinctive dark blue livery.
90034 will be put to work as the dedicated locomotive for Virgin Train's Mk3 Pretendolino set.
Virgin signed a two year contract with DRS to provide a Class 90 locomotive for its Mk3 set in December last year. 90034 will be dedicated to the work and will be kept at Wembley depot where it will be attached to the Pretendolino.
90034 is owned by DBS and is hired by DRS, who are then providing it to Virgin. It will return to Crewe every 21 days for exam, but the plan is that it will go back to Wembley depot the same day.
Virgin uses its MK3 set for charter operations as well as the 19:03 London Euston-Birmingham and 2050 return services on Thursdays and Fridays. 90034 will gain Virgin logos before it is moved to Wembley depot later this month.
---