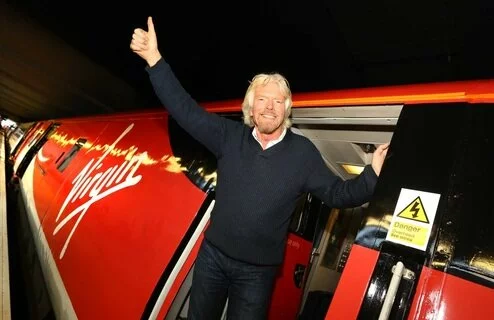 I have now spent three days using various rail services and various operators on the East Coast Main Line and there can be no mistake - Virgin are in town! I say Virgin, but as we all know the Virgin only has a 10% share in Virgin Trains East Coast with Stagecoach being the majority shareholder.
But the Virgin brand is big. The Virgin brand is powerful. The Virgin branbd has impact. And.... the Virgin Brand comes with Sir Richard Branson. And on Day Three of the Virgin Trains East Coast franchise Sir Richard was out there. Combining several visits and activities in the North East Sir Richard took to the train for his return south. With him were Sir Brian Souter and Martin Griffiths from Stagecoach and Virgin Trains East Coast Managing Director David Horne.
Virgin Trains East Coast were quick to play down Sir Richard's appearance when I spoke to them on Monday saying his visit was a staff rather than a media event. That said, whenever Richard is in town there he generates excitement and is a master at the photo opportunity. With thanks to Emma Knight from Stagecoach Group and my good friend John Gelson from the Virgin Trains East Coast media team we are able to share with you some superb images of Sir Richard (and Sir Brian, Martin and David) from Tuesday.
As I said earlier I have made several trips on East Coast rails so far this week and the completely rebranded trains seem everywhere. I've travelled on both sets, seen both sets several times including flying past my Great Northern train as we headed into London yesterday morning.

---