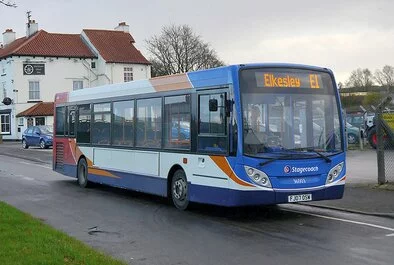 Most businesses have strict brand guidelines and spend a huge amount of money on branding. For transport companies, vehicle liveries form part of the brand and strict guidelines are in place to ensure a consistent image.
But look around and things are not as consistent as they seem…
I recall in my days with the West Midlands Passenger Transport Executive that buses repainted at Walsall Works differed slightly from those that went through Tyburn Road Works in Birmingham. Then there was Coventry, most buses here were painted to the guidelines, but then supplies of Coventry Marshall Red paint were used up on the repaint of several Daimler CVG6s, rather than them receiving the corporate PTE blue and cream colours.
Fast forward to 2016 and I was drawn to a photograph of a Stagecoach Enviro 200 taken by our good friend Damon Powell. It looked odd and the reason was that it carries the Dart SLF-style livery, rather than the usual Enviro 200 livery. Having done some investigation we can reveal that it was an error when the bus was repainted out of Nottinghamshire County Council livery. Bus 36003, part of the Stagecoach East Midlands fleet, was the first of the type to get a repaint and the was done incorrectly. When noticed a second bus was already receiving a repaint, but this was quickly altered to the correct style. The decision was taken, however, to leave the incorrect livery on 36003.
A further Stagecoach Enviro 200 to carry a non standard livery is Manchester's 36075 which we featured in our Stagecoach Manchester Fleet Handbook and which received a trial livery, which was not adopted.
It is not just vehicles carrying the current Stagecoach livery that carry different styles. I remember a visit to Cambridge many years ago when it struck me that the stripes livery on Dart SLF P324EFL didn't look right. It was certainly a different interpretation into how the stripes should be applied.

---