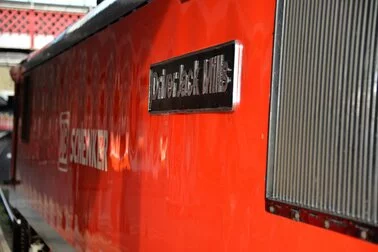 Over the past 30 years I have attended literally hundreds of train namings as a journalist and have managed many more as a Press and Events Manager for Virgin Trains. However, the one held at Crewe today was of special significance and is a trbute to the partnership of Virgin Trains and freight operator DB Schenker.
In the early hours of August 8th 1963 two railway workers who were just doing their job found themselves in the middle what has become known as the Great Train Robbery. Driver Jack Mills and Secondman David Whitby were working the overnight mail train from Glasgow to London Euston, having taken over the train at Crewe. However, their train was ambushed at a location known as Bridego Bridge in Buckinghamshire. Driver Jack Mills was hit over the head in an attack which ended his railway career.
Jack Mills and David Whitby were honoured with the unveiling of a plaque at Virgin Trains' Crewe station, whilst DB Schenker named Class 90 90036 Driver Jack Mills. The name on the Class 90 was unveiled by local MP Edward Timpson, whilst the plaque was unveiled by well known rail enthusiast and pop impressario Pete Waterman. The event was attended by David Whitby's sister and Jack Mills' nephew.
Following the plaque unveiling it was blessed by Railway Chaplain Richard Cook.
It is a fitting tribute that Jack and David have at last been honoured for being caught up in the Great Train Robbery.
It was iunfortunate that an error has crept into the plaque, which gives the headcode of the ill-fate train as 1M55 when it was actually 1M44. The illustration of the Class 40 locomotive is also of the wrong variant of the class.

---