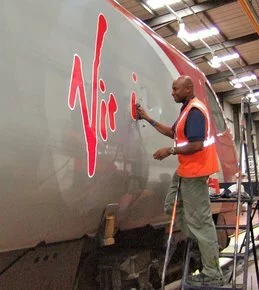 The Pendolino trains used by Virgin Trains on the West Coast route will lose their silver livery with red roof when repaints get underway later this year.
The trains will be repainted as part of a contractual arrangements which states that a repaint will take place after 15 years (are they really that old? I remember launching them during my time in Virgin Trains PR!).
The repaint work, which will take place at Alstom's facility at Widnes is being funded by Alstom and the Department for Transport. The first set is due to be repainted in June and will emerge in grey with the roof painted black. The only Virgin branding will be on the driving cars.
390006 is planned to be the first set to be repainted and is scheduled to go into paint on June 26th 2017. The schedule for the remainder of 2017 is 390010 (07/08/2017), 390011 (11/09/2017), 390013 (09/10/2017), 390016 (30/10/2017), 390020 (13/11/2017), 390009 (27/11/2017) and 390005 (11/12/2017).
The remainder of the fleet is being programmed at one every two weeks through 2018 and into 2019 with 390153 planned to be the last of the original sets to be painted in October 2019. The four additional sets 390154-57 will then follow.
The trains will have all decals and nameplates removed before repaint and it is unknown whether the nameplates will be replaced. It is also expected that the cast Virgin crests will be removed from the nose cones of the Pendolinos prior to repaint. A detailed vynil crest has already appeared on a Class 221 SuperVoyager train and we understand that there is an option to use this version of the crest on the repainted Pendolinos.

---