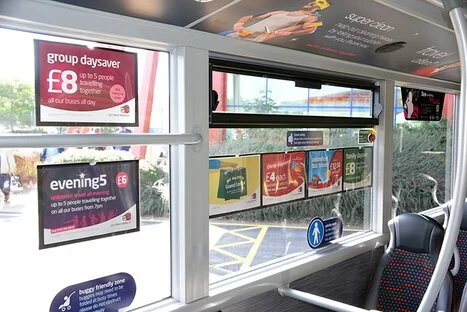 During my recent visit to Coach & Bus Live I was able to have a close look over one of the National Express West Midlands Enviro 400MMCs, which was finished to its premium 'Platinum' standard. So what did I think. Finish is good although with greys and blacks punctuated with reds the interior was in my opinion rather dark.
But what struck me was the use of adhesive notice holders covering two windows on the off side of the vehicle. How tacky! Surely there are ways to promote the operators product without taking away the view from the window. If the operator wants to cover windows in its own adverts why not dispense with the window altogether. I am sure many bus users will agree with me, bus windows should be to see through not to plaster with adverts. If National Express West Midlands wants to promote its wares, why not have fablon adverts placed on the narrow opening window vents - these would effectively be back lit during the day and in my opinion would have greater impact.
Come on National Express West Midlands, let your passengers look out of bus windows!


---