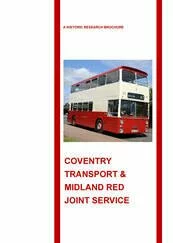 The recent extension of National Express Coventry's services through from Bedworth to Nuneaton reminded me that almost 50 years ago Coventry Transport was working with the National Bus Company's Midland Red subsidiary to operate a joint service between Stoke Aldermoor-Coventry-Ash Green-Bedworth and Nuneaton.

The local Government re-organisation of 1974 saw the scheme abandoned but not before much work had been done on the planning, including production of timetables and fare tables.
​
Back in 2012 we produced a Research Paper on the proposal but never finished it through to publication. We can now share it with you. It has been uploaded in four parts as we have to limit our uploaded documents to under 1MB. All the pages are there, but to save file space we have deleted the blank pages.

---
lrjoint_service_proposal_v2_part_1.pdf
File Size:
489 kb
File Type:
pdf
Download File
---
lrjoint_service_proposal_v2_part_2.pdf
File Size:
975 kb
File Type:
pdf
Download File
---
lrjoint_service_proposal_v2_part_3.pdf
File Size:
992 kb
File Type:
pdf
Download File
---
lrjoint_service_proposal_v2_part_4.pdf
File Size:
784 kb
File Type:
pdf
Download File
---