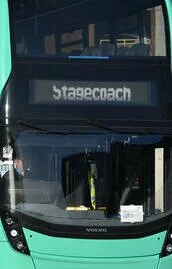 Another Enviro 400MMC has been delivered to Stagecoach North East's Walkergate depot in all over white, so that now makes two buses delivered this week in an anonymous white colour scheme. There is no indication yet from Stagecoach on what the intention is for these vehicles but we suspect the new brand image could well be applied using vinyls rather than giving the buses a full repaint – or maybe there is another plan for these two buses, although we suspect that others will be delivered in what amounts to dealer white colours.
Contrast that with the - in our opinion - insipid green livery that 34 E400City electric buses are being/have been delivered in for operations in Manchester and a nominal two-bus operation in Cambridge. I did like a Tweet response from the Stagecoach East team earlier today responding to a question on when the electric buses will enter service from Cambridge (yes, the plan as we understand it is that they will operate from Cambridge and not from Fenstanton. The latter location has been banded about widely on the web!). The response from the Cambridge team is that they need to get a bigger plug before putting the buses into service - a great answer. That said, Cambridge hasn't seen the two buses yet, they are tucked away in a depot belonging to another Stagecoach company, presumably keeping them safe until needed.
I digress and back to the insipid green, it's also on 12 Enviro 400XLBs and six Volvo B8RLE/MCV eVoRa saloons for the Cambridgeshire Busway.
That leads us, and we suspect other commentators, to make the assumption that insipid green is the new livery for special operations such as Electric Buses, Busway, Park & Ride. We were expecting a change to the Stagecoach logo, but the current version has been applied to one of the Manchester Enviro 400City vehicles - although I suppose it could easily be replaced with a newer version.
My guess is that all will become clear on Stagecoach livery and branding within weeks now rather than months. It has been a long and drawn-out project though - we first reported on it in 2017!
For over 24 months the project had a low profile outside the company and there was a reluctance to even acknowledge that something specific being undertaken – the band response was that all companies continually look at their brand proposition.
Perhaps the first public acknowledgement was late last year and contained in the report to the half-yearly accounts. 
Then Stagecoach said: "We are ready to roll out a new over-arching brand proposition for Stagecoach. This is about far more than a new identity for our vehicles. It incorporates a new brand vision and values, the roll out of commercial initiatives, and an extensive marketing campaign".
The company added that research had shown that "by increasing brand awareness and relevance and implementing a coordinated marketing and customer strategy, we can improve the end-to-end customer experience and increase our passenger revenue through modal shift". 
It would appear that a greater focus is to be placed on central/national marketing activity which in recent times has tended to be locally driven and focused. 
The report adds: "While we intend to continue with our local marketing activity, we see significant potential from complementing that with centrally co-ordinated branding and marketing activity, optimising our position as the UK's largest bus and coach operator. We have been encouraged by the returns on investment that we have achieved from initial central marketing activity during 2019 and are looking to build on that. Our plans include a mix of short-term tactical marketing activity to drive near term sales, as well as generating long-term revenue and profit growth through brand building. 
The company is serious about its proposed brand proposition. That much we know because it intends to increasing its UK Bus brand and marketing spend from c.£8 million per annum to c.£13 million per annum to target passenger revenue growth. 
Look out for big changes in the way Stagecoach markets itself and we now await details of what the brand and image looks like for the re-invented Stagecoach
---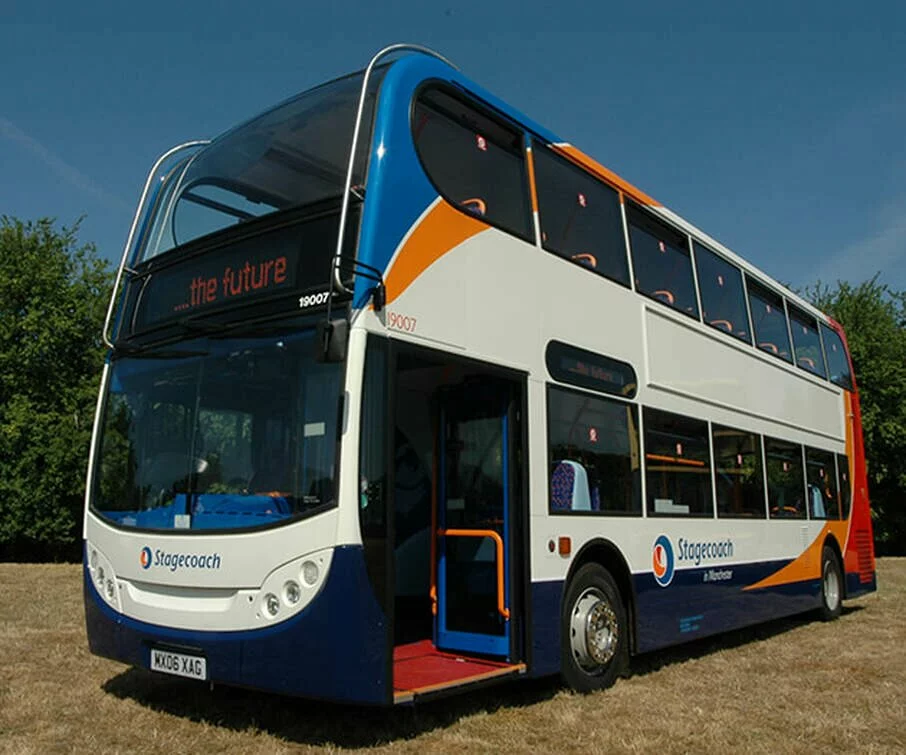 Pictured when new and complying with the Stagecoach livery guidelines , complete with regional descriptor which has latterly been dropped. © Steven Knight Media