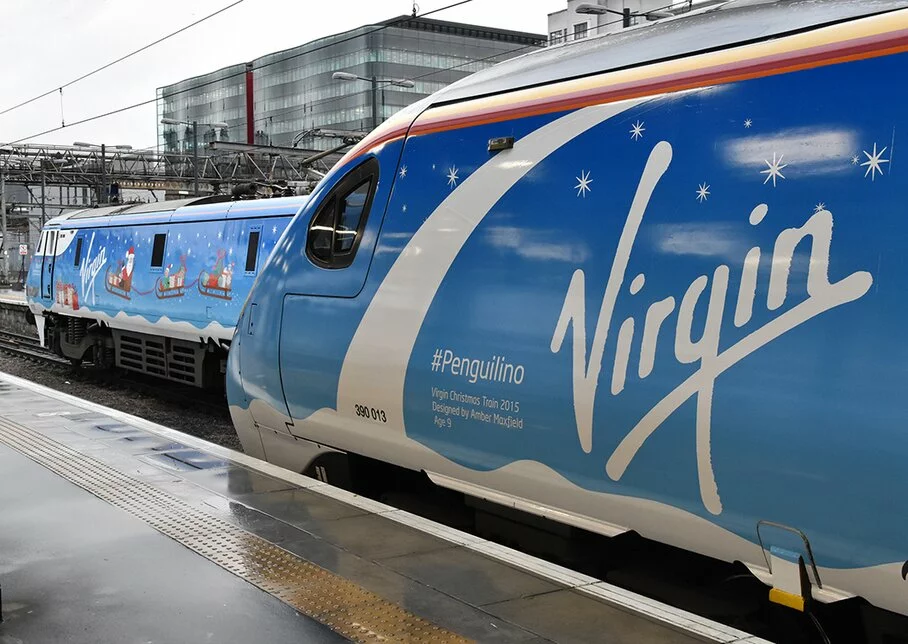 There was something stirring at London King's Cross station yesterday morning and regular commuters didn't have long to wait for all to be revealed.
First to break through the gloom of Gasworks Tunnel and head into the iconic trainshed that is King's Cross was a Virgin Pendolino, but not as we know it. Instead of the well known red and silver that we all recognise, this train was blue. It was the first of two Virgin trains that had been given a Christmas makeover and smart it looked too.
Let's also not forget that this was only the second time ever that a Pendolino, normally restricted to working out of nearby Euston station, has been allowed into King's Cross. The last time was on March 12th and 13th 2012 when set 390055 worked overnight from Edinburgh to King's Cross as part of a trial. Now 390013 was in platform 8 at King's Cross and the blue background to both driving cars sported a snow scene with penguins. In true Virgin Trains on the West Coast style the train has been dubbed Pengulino.
Then barely 20 minutes later, shortly after 08:00 an East Coast Mk4 set with DVT 82209 and Class 91 91128 rolled into platform 7. The same blue-based snow scene was carried on the DVT and Class 91 with images of Santa, elves and Christmas presents. In a play on words this train was the Claus 91!
The designs on the two trains marked the end of a nationwide competition amongst primary school children for a Christmas Train design. Joint winners, nine year old Amber Maxfield and 11 year old Madeleine Deakin, were there to see their festive drawings come to life.
The competition attracted hundreds of entries and was run in partnership with the Book Trust. The judging panel, which was headed by Jill Murphy, author of the popular Worst Witch and The Large Family series, were so impressed by the entries that two winners were chosen.
Madeleine from Copdock in Suffolk said "I'm so happy to have won and it was incredible to see my drawing on the train – it's made me even more excited about Christmas!" and Amber from Carlisle added "When I found out I'd won I just couldn't believe it! Seeing my drawing on a train and coming to London is a dream come true."
Appropriately each Christmas train bears the name of its young designer.
Patrick McCall, Chairman of Virgin Trains, said: ''We loved the concepts that these two young designers came up with and are proud to have their ideas transform two trains. It's fantastic that both the East Coast and West Coast services have come together to make our customers' journeys throughout December extra special - especially on their way home for Christmas.''
Following the unveiling the Mk4 set worked the 09:00 to Edinburgh, whilst the Pendolino returned to Wembley depot.
What was remarkable about this unveiling was the way it captured the attention of hundreds, no thousands, of commuters arriving at the station with many taking out mobile phones and tablets to get a picture of the trains, before continuing on their journey.
What was even more remarkable was the fact that the Virgin Trains East Coast planning team had been able to work with Network Rail and other train operators, as well as their West Coast colleagues to stage the event at a busy London station in the morning peak. But they did it and Steven Knight Media understands that planning went right to the wire with route clearance for the Pendolino over the North London Line not being signed off and the required paperwork issued until the day before.
The livery competition follows a similar initiative last year on the West Coast route which saw a Pendolino transformed into Traindeer and is indicative of the way that Virgin encourages its businesses to engage with their customers and the wider community.
The Christmas trains will run on the Virgin Trains' East Coast and West Coast network throughout December. It is unlikely they will meet each other again, but who knows what may happen as both East Coast and West Coast serve Edinburgh!

---