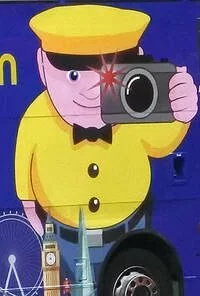 To London yesterday for SKM for a family day out and our first experience on Megabus Sid's open top London MegaSightseeing tour. 

This is a tour that differs from most others. No Hop-on/Hop-off, it's a non-stop tour advertised to take around two hours and pass 50 points of interest in the Capital. Buses leave from three separate locations - Tower Hill, London Eye and Park Lane with tickets, which must be booked online starting at £1, plus the booking fee.

We paid under £5 for two tickets - not quite the entry level fare of £1 each but extremely reasonable.

To our stop for ten minutes before departure. The driver was also waiting for his bus having returned from a lunch break and was informative and a real credit to the business. But we did wait and wait with departure almost 35 minutes late.

The tour itself if good, vehicles well presented, and clear audio commentary, which is in English only and triggered using GPS technology.

The commentary is provided by a blue badge guide, although Sid does offer some additional information in his own style at times.

We had read mixed reviews on the tour including how some tours had missed out part of the route, but we wanted to sample it for ourselves.

Including ourselves there were just three passengers on the tour, but it is still early days. Despite the dull, fairly chilly and windy weather conditions we opted to sit in the open at the rear of the bus. The commentary was informative and the journey enjoyable. Top marks to Sid for arranging Tower Bridge to be raised in front of us as we headed for the end of the tour. 

But we cannot forgive Sid for axing two parts of our tour to try and get the bus back on schedule for its next run. It is a real challenge for Stagecoach and the Megabus team to offer the advertised tours given the vagaries of London's traffic and the congestion. 

It does seem that there is a contingency plan in place to miss parts of the tour to recover from late running. If that is the case then it should be advertised. If it is not the case them Sid should hang his head in shame or he could be banished to the Tower.

---