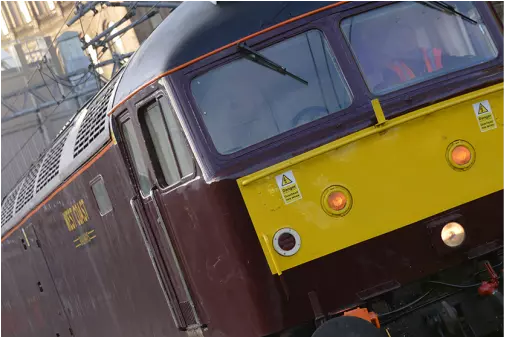 There was little Easter joy for Carnforth-based steam and diesel charter train operator West Coast Railways as Network Rail announced on the afternoon on Thursday 2nd April that it was suspending WCR's license to access the national rail network. Network Rail has concerns about the safety regime at WCR following an serious incident when a steam-hauled train passed a signal a danger at Wooton Bassett which protected the Great Western Main Line. A Great Western passenger service had passed over the junction barely a minute earlier.
West Coast Railways will be unable to operate trains in its own right until at least May 15th and will only have its license reinstated it it can prove to Network Rail that its safety procedures are in order.
This is the first time since privatisation of the railways almost 20 years ago that a train operator has had its license suspended following an industry investigation into the signal passed at danger incident.
In order for operations to resume on May 15th WCR has to convince Network Rail that it has take steps to address the concerns.
West Coast Railways says that it will fulfill its charter train commitments by using other charter operators to run trains on its behalf. It is hoped that WCR can do this seamlessly and that it can also satisfy Network Rail that it is fully competent with robust safety procedures in place to resume operations in its own name from May 15th, otherwise there could be passenger confidence fall out whit could hit the charter train market.
We have uploaded both the Network Rail letter to West Coast Railways and also a WCR letter to its customers so you can see the full facts.

---
wcr_suspension_notice,.pdf
File Size:
46 kb
File Type:
pdf
Download File
---
wcr_passenger_letter.pdf
File Size:
148 kb
File Type:
pdf
Download File
---