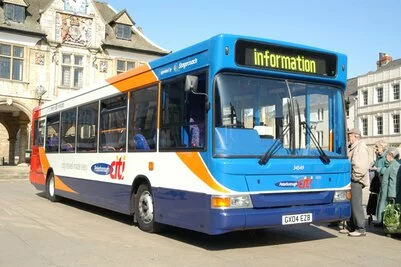 Stagecoach has confirmed to Steven Knight Media that it plans to replace 20 buses on its Peterborough Citi network later this year. The confirmation comes at Peterborough Citi reaches its tenth birthday. It was launched on April 19th 2004 with a fleet of 20 standard Transbus Darts. Since then a further  21 single deck and 20 double deck  buses have been added to the Peterborough fleet replacing much older vehicles.
Stagecoach's Peterborough Citi network now carries 8.2 million passengers a year - an increase of 48.6% since its launch in 2004.
The new buses should be in service in Peterborough by the end of the year.
Stagecoach regards its Citi network in Peterborough, and a similar one in Cambridge where the brand was launched in 2001, as being a huge success. The Citi brand has also been used on Gloucester and Carlisle networks.
---