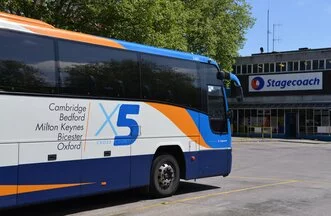 Stagecoach has confirmed to Steven Knight Media that it plans to replace the coaches currently used on its' X5 next year.
Replacement of the 17 coaches used on the route which links Cambridge with Oxford via Bedford, Milton Keynes and Bedford had been expected this year following route trials with a number of vehicle types last year, but Andy Campbell, Managing Director of Stagecoach East told Steven Knight Media that "We have not yet mad a decision on future vehicle type but we are aiming to replace the existing vehicles in 2015." 
His comments came just days after further trials had been carried out using a Megabus Interdeck vehicle. It is understood that there are issues to be resolved around Bicester and at Gloucester Green Bus Station in Oxford if longer vehicles are used.

---