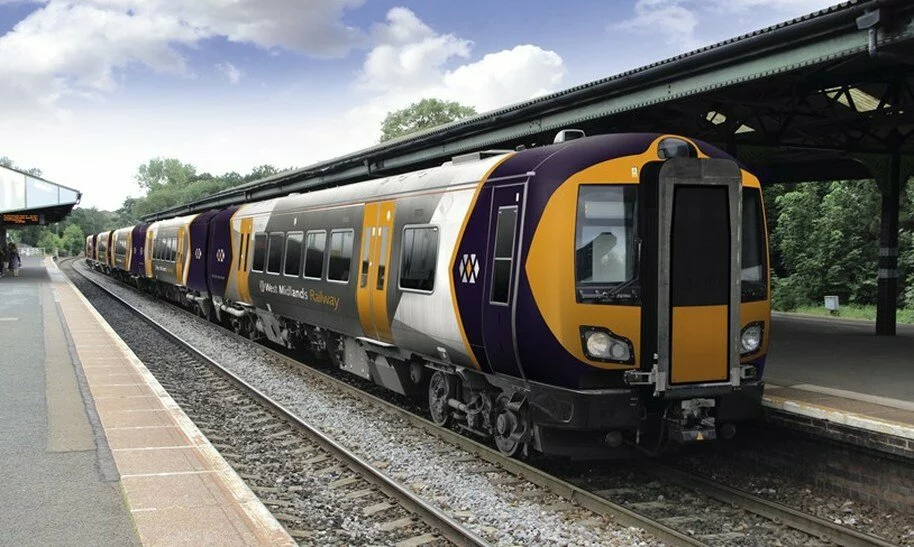 West Midlands Rail (WMR) has released details of how commuter trains in the West Midlands could look when management of the regional network is put into local hands later this year. 

​The new livery has been unveiled by West Midlands Rail (WMR), a consortium of 14 local authorities which together with the Department for Transport (DfT) will jointly manage the local network from October this year. Management of rail services in the West Midlands is currently the sole responsibility of central government. 
 
The dedicated livery would replace the green London Midland colours currently in use.
 
Two train companies, Abellio and Govia, are bidding for the eight-year franchise to run local services on behalf of WMR and DfT.
 
The finer details of the new livery will be agreed with the franchise winner but the design is expected to be closely modelled on the recently released image. 
 
Cllr Mark Winnington, chair of WMR and Staffordshire County Council's cabinet member for economic growth, said: "We felt it was important to have a distinct brand and identity for local trains and we are extremely pleased the DfT feels the same way. 
 
""We believe that having this level of involvement in the management of our local network will bring real benefits not just for passengers but also for local businesses. 
 
"It means we can help ensure we have a network that can support economic growth and it is for these reasons that the local authorities of the wider West Midlands have come together on this." 
 
Improvements for passengers set to be delivered under the new franchise include extra capacity, more frequent services and free Wi-Fi. 
 
The enhancements have been included in the Invitation to Tender document which sets out the minimum specifications that need to be met by whichever train operator wins the franchise. 
 
One major improvement will be an increase in Sunday services to the same level of frequency currently seen on Saturdays. This will apply to nearly all local routes and together with more evening services is aimed at better reflecting modern working and leisure patterns. 
 
The increases, along with a doubling of the off-peak services provided by the franchise between Birmingham and Shrewsbury and a new, direct peak-time service between Walsall and London are among a number of enhancements resulting from WMR's influence in the design of the new franchise. 
 
However, the bidding train companies are being encouraged to include proposals for additional benefits over and above the minimum requirements already set out.

---