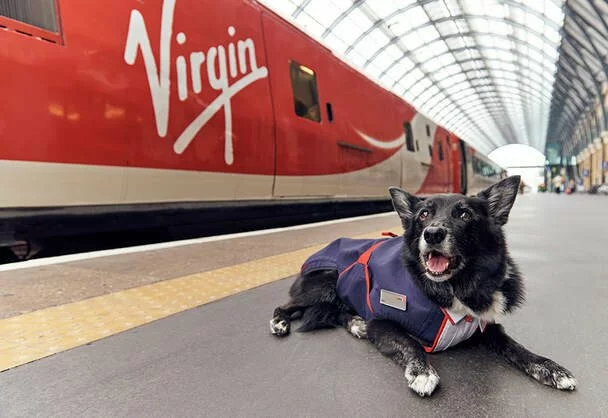 The inbox goes bing and there appears a Press Release from Virgin Trains. Nothing new there but wait a minute its about a uniform for a dog.  Have the PR team at Virgin Trains gone barking mad I thought, but no it is all genuine.

It seems that the folk at Virgin Trains have gifted a special-edition, tailored uniform for loyal Virgin Trains fan and trainspotter, Jake the Dog, to launch its new body-neutral uniform range for every gender, size and shape across both the East and West Coast.


So over to Virgin Trains to find out more…..

​To create the new uniform range, Virgin Trains involved its frontline staff as part of the re-design to get their expert opinion, from an extensive employee-wide survey on their favourite designs, to trialling initial versions on the job over two years.
The Virgin Trains body-neutral uniform offers up to six combinations (six for women and four for men) on the West Coast route, and up to ten combinations (ten for women and five for men) on the East Coast route.

When Virgin Trains decided to introduce a new body-neutral uniform for their staff, it wasn't just the humans they were thinking of. Proving it fits all sizes, the new uniform has been created by British designers Wayne Hemingway MBE and Gerardine Hemingway MBE and Virgin Trains has even gone the extra mile for dedicated train fan, Jake the Dog.

Over nine years, Jake has been a regular sight at Virgin Trains stations and has become part of the Virgin Trains family; joining the station staff and delighting customers to welcome trains into the platform with lots of lively wags and barks.

As a reward for his devoted service, aside from his favourite doggy snacks, the design team set out to make Jake his own bespoke dog-friendly uniform, carefully measuring him from furry head to trainspotting tail to create a fetching look that would suit his unique personality and shape.

On receiving his new uniform, Neil McNamara, Jake's owner, said;
"Jake's always had a love and fascination for Virgin's trains, he doesn't bark for any other! His daily trip to the station is a real highlight for him. Over nine years he's become a mascot for the regular passengers and we're excited for him to show off his special uniform."
Natasha Grice, Route General Manager, of Virgin Trains West Coast said;
"We involved our Virgin Trains staff from the very beginning of the design-process. There's been a real passion behind creating the new stylish uniform. We wanted to combine everyone's favourite parts to create up to six practical mix and match combinations*. We want our staff at Virgin Trains to feel their best, to be empowered to confidently express their own style and be their incredible selves, while still looking totally Virgin Trains."

JessicaKelly-Mckay, Uniform Delivery Manager, of Virgin Trains East Coast said;
"We want our people to be able to express their own unique style and personality, and that's why we've worked with them to create a new tailored wardrobe to fit every shape, size and gender. The launch of our striking, new uniform combinations is another milestone on our journey towards totally transforming our East Coast service, and our customers can expect to see an extra spring in the steps of our staff as we roll it out."

Wayne Hemingway MBE of HemingwayDesign said;
"The uniform took two years to make as we were determined to end up with designs that included significant input from the Virgin Trains team and were fully tested so as to be practical for their roles. We have also ensured that this is a collection with up to ten combinations in the knowledge that the Virgin Trains team are not "uniform" and quite rightly wanted to let their individual personalities shine through. The wide range lets Virgin Trains staff choose what they feel comfortable in and we hope they all wear their uniforms proudly, including trainspotting dog Jake, who is sure to turn some heads in his stylish piece."
In an effort to achieve zero waste to landfill, the old Virgin Trains uniforms are being recycled into new items at HMP Northumberland. Prisoners will upcycle the old uniforms in the onsite textile factory, as part of a rehabilitation scheme that helps to prepare prisoners for life outside in an effort to reduce reoffending rates.

The HMP Northumberland textiles team will use the uniforms to create new items such as blankets and coats, which will be donated to local homeless charity, The Albert Kennedy Trust which supports young LGBT homeless people in crisis, and working with Virgin Trains charity partner, Rethink Mental Illness.
​
This initiative was developed by Virgin Trains, HMP Northumberland, and the Hubbub Foundation.
---