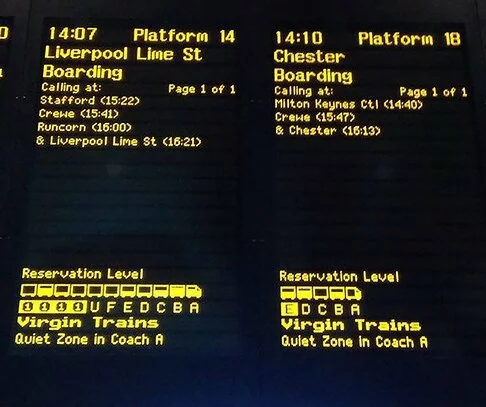 Virgin Trains is full of surprises at the moment. Just months after it introduced automatic compensation for train delays where passengers buy advance tickets direct from its website, it has now introduced more information departure monitors at London Euston.
Rather than just a departure time, destination and calling points the information the displays really are passenger focused.
The improved departure monitors will help passengers travelling on the West Coast route to find a seat on their train and generally have more relaxed journeys out of the capital.
In what is seen as an industry first, a pictogram on the information screen shows reservation levels in each carriage to indicate where customers without reservations are most likely find a seat. Passengers travelling with Virgin Trains can also see where bicycles can be loaded and where disabled seats are located.
Wow, this really is a step forward, but could Virgin do more. The pictograms only show reservation levels but could could there be a 'real time' alternative. The Pendolino trains, at least, have load sensors which is part of the safety systems for tilt. Could these be programmed to calculate loadings? Admittedly it would have to be based on an average weight per passenger, but it could give real time train loading information.
That said, the system in use now is a major step forward.
The new screens at London Euston station will also provide customers with a range of information aimed at helping them to:
Relax at the station: The screens will show each train's approximate boarding time to help put customer's minds at ease, and allow them to enjoy the station's other facilities until their train is ready to board.
Manage their time: The estimated arrival time at each calling point will be shown.
Cope with disruption: If a train in cancelled, the screens will show next train information for all calling points so passengers can find their next best option.

---