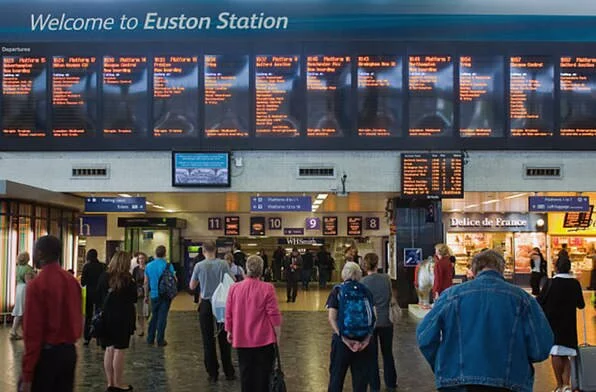 During my 12 years with Virgin Trains the one thing station and onboard staff came to dread was the Friday evening rush to head out of London's Euston station.

Passengers would hang around for hours on a Friday evening waiting for the digital station clocks to tick over to 19:00 and signal the end of peak time travel restrictions.

Cue an ungainly and brutal rush as passengers tried to clamber on board the first of the evening trains on which off peak tickets were valid. 

Despite extra trains operating it was a case of crush loading. But those passengers who had been on the station waiting for the end of peak travel restrictions could not have failed to notice that many of the peak time trains left Euston with empty seats.

At the busiest point of the journey the first few trains after 19:00 on a Friday were loaded to a capacity of more than 110%.
Now after a 12-week trial period, Virgin Trains has adopted an easy fix. Scrap afternoon peak travel restrictions on a Friday. 

It was a risk. A risk that could have seen massive abstraction in revenues. But that has to be considered alongside passenger satisfaction, improved working conditions for station and onboard staff, and the potential for generating new business.

Now Virgin Trains has announced that having analysed the results of the trial it has banished Friday afternoon restrictions for good (or, I suspect, at least whilst it operates the West Coast route).

The move is great news for passengers. It is just a pity that it took Virgin so long to do it.

And during the trial the number of passengers crammed onto the first off peak service to Manchester fell by 61% with a 75% reduction in passengers on the 19:03 to Birmingham.

Virgin Trains confirmed that over the course of the trial in excess of 3,500 additional journeys were made each Friday, as visitors flocked to major cities such as Manchester, Birmingham and Glasgow for a weekend break. But despite driving up numbers travelling, the promotion has also led to a reduction in congestion by spreading passenger demand more evenly throughout the day.

"Rather than everyone waiting for the first off-peak train on Friday evening, people can now travel whenever it is convenient for them," explained Sarah Copley, Commercial Director at Virgin Trains. "This change means we've been able to reduce congestion, whilst helping people save money and make an earlier start to their weekends."

While the cheapest tickets are always available in advance, those who decide to travel on the spur of the moment can now secure a cheaper off-peak ticket any time after 09:30 on a Friday, instead of waiting until 19:00. A customer arriving at Euston Station at 16:00 and buying a ticket for the next train to Manchester will see their fare reduced by £125.55.

​The decision has been welcomed by both staff and passengers, with positive comments on Virgin Trains internal communications channels and social media feeds.
---