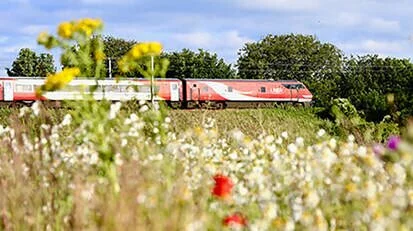 Every now and then an online story catches the attention and there sat one of them yesterday. Respected rail journalist Richard Clinnick from RAIL magazine broke the (welcome) news that LNER is being forced to extend its planned use of Class 91 and Mk 4 trains yet again. 

Due to be withdrawn by June this year, first there was an extension planned through until the end of 2021 and now Richard has revealed in his news story that they could remain in service until the end of 2023 with ten operational sets and two spare Class 91s along with spare coaches being retained on LNER books.

So what has gone wrong?

In the same story Richard adds that LNER needs six more trains and the procurement lead time necessitates retaining the Class 91s and Mk4s.

So why are more trains needed. Is the timetable far too ambitious for the existing number of trains? If so do we have another Virgin CrossCountry issue here?

Or, is maintenance of the trains taking longer?

Perhaps Hitachi is are the train and maintenance provider to LNER for its new trains has suddenly found out it cannot meet the requirement for the number of trainsets LNER requires each day? 

Now, on top of any existing problems, modifications to all inter-car connections have to be made by June 2022. Given it was deemed a safety issue that's a long time to do the mods!

Whatever the reason, prior to the service reductions as a result of the Coronavirus the problems were really starting to show. Trains that were booked as ten coaches formed of two x five coach units were being short formed as a five coach train. Elsewhere there were set swaps aplenty.

I must admit I am not a fan of these new LNER 'Satsuma' (sorry, 'Azuma') trains having experienced them on several journeys prior to the Coronavirus travel restrictions being imposed. In a packed carriage the temperature seems to climb higher and higher with little feel of air circulation. Walk into the vestibule and the air is much fresher.

And don't get me started on the seats. I'm sure our ironing board has better padding. 

I am told that prior to the Coronavirus restrictions LNER was revamping how it delivered onboard service in First Class in both the structure of the onboard teams as well as how individual staff will now work closer as a team.

But, there needs to be some consistency as well as a common-sense approach. On a recent journey from London to Peterborough  on a cold day, only cold drinks were offered. No option of a warming tea or coffee. 

A previous journey from Lincoln to Peterborough saw First Class food orders taken on leaving Lincoln. Hot food was served after leaving Newark but sandwiches can around Stoke Bank. As for the desert pot, we were handed ours to take away as we got off the train!

And don't get me started on set swaps. At least LNER now adopts the policy of not having reservations on services operated by another type of train or a short formed set. Before this policy came in reservations were being downloaded irrespective of the type of train used making it extremely confusing for passengers and putting staff in a potential conflict situation.

I also raised with LNER recently that the ability to change seat reservations when tickets are booked online is no longer offered for all bookings. Seats on some trains are allocated on a fixed basis, whilst others can be changed to preferred seats. I have also had an issue where two tickets booked together with a Two Together Railcard has resulted in split seats in different parts of the carriage - certainly not ideal and certainly not if they cannot be changed.
​
At least I may be able to plan my travel on Mk4 trains for the foreseeable future once the country starts to get back to normal. But there again, I'm sure the chances of a set swap remain high!
---