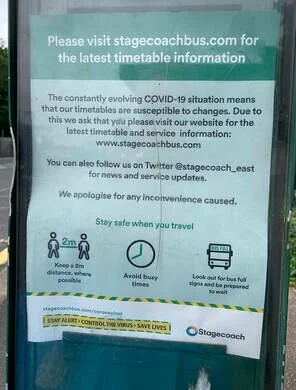 Where's the timetable?
It has now been many months since the 'essential travel only' message for bus travel was dropped, but whilst some areas are operating over 90% of pre-COVID 'lockdown' services the number of passengers travelling is varied across the country.
We hear that in some areas passenger numbers have been high, but in others previous bus users lack the confidence to return to using bus services. Add to that the number of people now working from home and no longer needing to travel to their workplace. Then there are those for whom 'lockdown' encouraged them to walk or extract the bike from the back of the shed.
In many urban areas prospective passengers have been mostly kept up to date with 'forthcoming departures' from their nearest bus stop through real time screens, but the  frequent service changes post-'lockdown' has flagged up examples where the updating of the database that feeds the real time system has been slow.
But what about prospective passengers who use stops without real time information. At the start of 'lockdown' many had their timetables removed and replaced with a generic notice that pushed prospective users towards Apps and the internet for information.
Perhaps I was naive to assume that as services returned to almost pre-COVID 'lockdown' levels proper timetables would re-appear at these bus stops. Not so! 
The result, for prospective bus passengers at these stops, they have little choice if they don't have internet access. Just wait and hope that a bus will turn up.
I have my suspicions that the removal of timetables means that some bus companies will hope that prospective passengers will forget the printed bus timetables were ever displayed. There again, with Government support is there any incentive for bus companies to increase their loadings?

Meeting the schools transport challenge
I must admit to being impressed at the way bus and coach companies have responded to the challenge of providing return to school services. It really was a trip into the unknown but we have not seen masses of 'horror' stories in the media. These arrangement will evolve as operators get a greater understanding of the school transport requirements but duplicate and scholars only services are, in my view, here to stay for some time.
It seems that some operators have managed the return to school business through segregation with students using the upper deck with all seats in use and other passengers the lower deck where Social Distancing remains.
What has been surprising is how some operators turn a scheduled journey into a scholars-only journey part way through the route. Whilst it may be legally allowed, it hardly encourages non-student travel. And by nature of the schools requirement it effectively bars non-students from peak time journeys.

Transport tourism returns but faces challenging times
It is pleasing to see how a number of transport-related tourism businesses have managed a phased return but with a significantly reduced footfall. During the early part of 2020 many of them were preparing for the start of the tourism season. 'Lockdown' meant they had to remain closed through what would be their busiest time of the year.
Many of the attractions were able, in some cases at a considerable extra cost, to 'tweak' their offering and ensure they could offer a COVID-Secure environment for visitors. 
Where attractions did open it was in a 'new normal' was of operating.
It is pleasing to see that heritage railways have been able to provide a limited offering which has afforded them at least some income. 
In recent weeks the North Yorkshire Moors Railway has been offering two return Pickering-Whitby services, but its intermediate stations remained closed. Our photo shows the railway's BR Standard 9F 92134 heading for Pickering as it passes Moorgates heading south from Goathland.

---
​Avanti West Coast makes its mark
Over the last few weeks we have received a number of updates from Avanti West Coast. The company confirms that 31 of its Pendolino trains have now received the Avanti West Coast cab vinyls – 39008/16/43/44/45/47/49/39/40 along with 390103/04/12/13/21/23/25/27/28/30/32/32/34/35/36/37/38/41/48/52/53/54/55/56.
Pendolino 390119 had a special 'Pride' wrap applied during August.
The refurbishment of the Super Voyager fleet continues at Ilford with sets 221101/05/06/08/09/11/13/15 all now completed with all of the company's Class 221 units due to be refurbished by the 18th December 2020.
Remaining with the Super Voyager trains, all of them have now been modified with welsh language announcements.
Award for Direct Rail Services 
Direct Rail Services (DRS) has won the Community and Environmental Responsibility award at this year's Rail Freight Group awards. 
The prestigious Rail Freight Group awards showcase excellence in all aspects of rail freight and the benefits it brings to the country. This year the awards took on a different feel as they were virtual but it didn't dampen spirits or detract from the fantastic work happening across the industry. 
The Community & Environmental Responsibility award recognises initiatives that demonstrate environmental improvement, for instance, cutting noise, improving air quality and developing new rail freight flows which reduce road congestion, or otherwise reducing environmental impacts. 
The judges commended the way DRS has launched a Zero Harm campaign to protect employees, assets and the environment, the company's extensive work within the community and charitable endeavours, the ground-breaking use of their Class 88 bi-mode locomotives, modifying its Motherwell depot to reduce noise for local neighbours, and its work on using digital displacement hydraulics to reduce emissions which could have a significant impact across the industry.