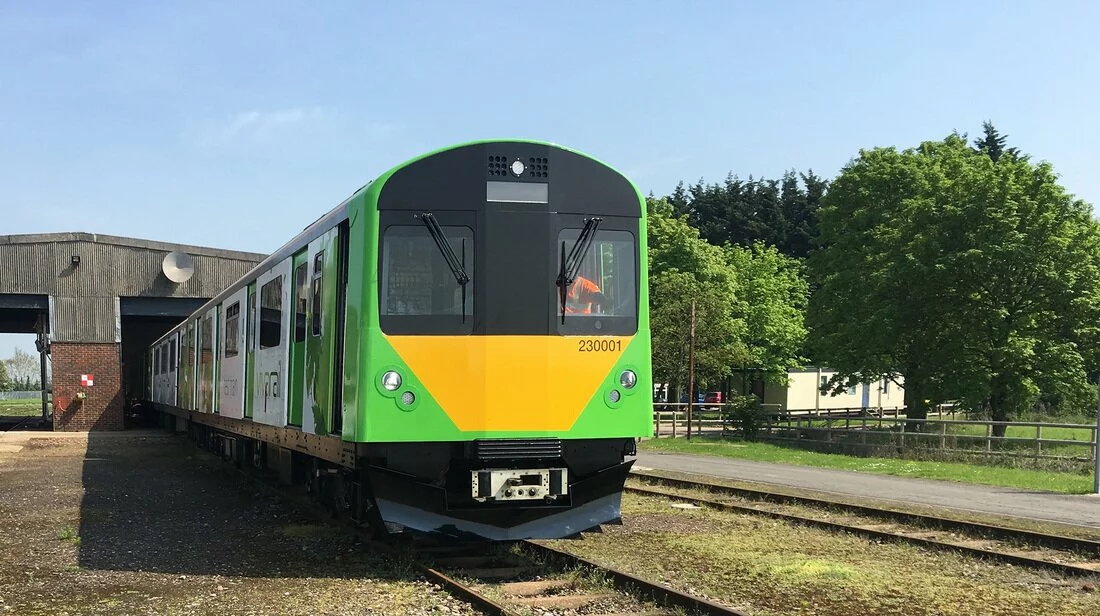 ​After months of development and testing and speculation on its potential use in service, SKM can reveal that the prototype Vivarail Class 230 diesel train will enter service later this year on the Nuneaton to Coventry line.
The 3-car train, converted from redundant London Underground stock, will be leased to a consortium led by the West Midlands Combined Authority (WMCA). It will operate on the Nuneaton-Coventry line for a 12 month period.
Adrian Shooter, CEO of Vivarail, told SKM "I'm delighted that the Class 230 will soon be running on the mainline carrying passengers. We will be supplying a train of the highest quality with three carriages fitted out in a range of designs which will allow us to get valuable feedback on what passengers actually want. The two driving cars will retain their original 'crowd-busting' layout whilst the middle car will showcase different seating and table arrangements. Our aim is to gain direct thoughts from the public about what suits their needs which we will be important in discussions with future operators.
"Throughout this lease period the Vivarail team will be maintaining and analysing the train, which will provide data for us to use to develop our technical expertise as we move into full production.
"Working with the team led by WMCA is an added bonus for us; we are proud to be based in the West Midlands and to see our train running on a 'local' route is exceptionally pleasing. We look forward to serving the people of Coventry and Warwickshire throughout this trial period!"
Cllr Roger Lawrence, transport lead on WMCA, said: "The use of the D Train is an innovative proposition which could help us get around the UK shortage of suitable diesel trains to run on this line.
"It should enable more carriages to be provided sooner than would otherwise have been the case and we would encourage passengers to give their feedback once the pilot scheme is up and running."
Talking about the possibility of the prototype train being used to serve the Ricoh, Councillor David Welsh, Deputy Cabinet Member for Jobs and Regeneration, said, "I'm delighted that we have been able to work with local partners to trial this new train. Anything we can do to boost the number of people that can travel to the Ricoh by train has got to be good news.
"The trains are a really innovative solution to the shortage of diesel trains across the UK and this is a really good example of local people feeling the benefits of the city being part of the West Midlands Combined Authority (WMCA). I'm also delighted that we have been able to work with a local company to find what looks like a very smart solution to the lack of rolling stock."
The Class 230 has been designed as a cost-effective solution to over-crowding on the rail network. The train costs considerably less to acquire and run, about a third less than a comparable unit, and uses about a third less fuel. The ground-breaking engine modules allow the train to be maintained trackside, rather than needing to return to a depot.  Each driving car is powered by two independent Gensets which ensure the train can operate at near full power even if one engine should fail. Additionally the train is subject to 24/7 remote monitoring to ensure smooth and continuous service throughout its operating hours.  

---