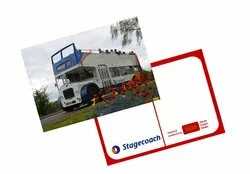 Its been a busy few weeks here at Steven Knight Media. The Second Edition of the Stagecoach Midlands book went to the printers last week and copies are due to arrive with us today.
We have now started work on the new edition of the East Yorkshire Motor Services Fleet Handbook, which will be published in August. This book will contain the latest information on vehicles in the main EYMS and also Whittles fleets. Many changes have taken place with both fleets in the last year and more new buses are
due for EYMS this summer.
We re also planning at least two more additions to the Stagecoach series of Fleet Handbooks later this year.
The Stagecoach FLF's continue to attract interest and we have produced a postcard with a view of the Open Top example. Both this, and the closed top FLF, will make an appearance at the Fenland Vintage Vehicle event at Whittlesey in Cambridgeshire on Saturday 17th May as well as at the Cheltenham 'Heritage Running Day' on May 31st.

---