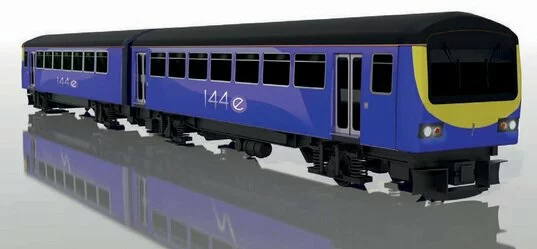 Train leasing company Porterbrook has confirmed that it is continuing with its Pacer refurbishment project, despite the new franchise specification for the Northern franchise insisting that non-bogied trains (Pacers) are replaced during the life of the new franchise that is on offer.
Porterbrook are already carrying out a prototype refurbishment on train 144012, which is currently part of the Northern fleet.

On March 13th Porterbrook confirmed that "the project is still progressing as we expect even though the Northern ITT has stated that these vehicles will not be required on that franchise".


Porterbrook says that the new look Pacer should be completed next month. It is now known whether it will go into service with Northern once the work is done.
The project dubbed 144e (e for evolution) will see the two car train receive a new interior design and layout including passenger information systems and
WiFi
. The toilet will be moved from the
centre
of the train and re-located at the driving end. This will allow two new wheelchair areas to be created making the train fully compliant with mobility regulations. The luggage racks are also being removed and brighter LED lighting installed. 78 seats will be fitted.
The cost of the prototype refurbishment on 144012 is estimated to cost £800,000, but Porterbrook says that the production cost is more likely to be in the region of £350,000. This is significantly cheaper than the cost of new trains, which Porterbrook suggests will be around £3.5 million for a two-coach train.
---