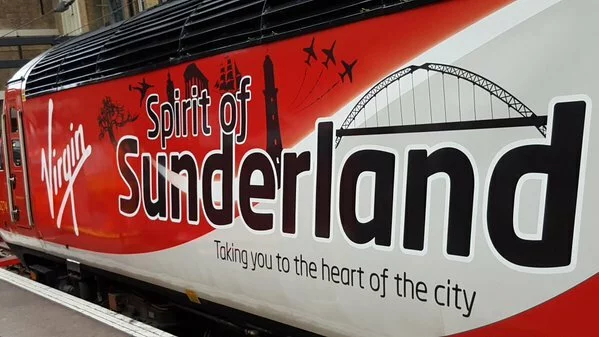 Last month Virgin Trains on the east coast (yes, that's how they want to be known and guess what – their colleagues on the West Coast routes out of Euston station would like to be known as Virgin Trains on the west coast. Note that they want lower case ec and wc) announced that when it launches its new Sunderland-London service, which it did earlier this morning, it would also herald the entry into service of its first refurbished train.
Well thing's didn't go quite to plan. As is frequently the case with the first train to be refurbished, the work is taking longer than planned.
So the first Sunderland train was not the refurbished set. I'm sure that Virgin Trains on the east coast is disappointed, but I hear the launch event at Sunderland earlier this morning impressed the train operator. There was even a train naming with HST power car 43274 being named 'Spirit of Sunderland', whilst there is a large distinctive 'Spirit of Sunderland' graphic on the side of the train (it reminds me of early West Coast attempts at naming graphics with one HST power car named Blackpool Rock!) there is also a traditional cast nameplate. Well done Virgin Trains on the east coast.


---