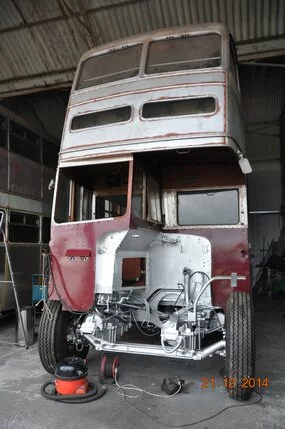 Ken Jones has provided is with some images of the restoration of Coventry Daimler 366.
The bus is owned by Coventry Transport Museum and is on a period of extended loan to Roger Burdett, who has a track record of high-quality vehicle restoration.
Ken advises that the upstairs is complete - apart from a couple of things like the mirror above the stairs and lighting has also been fitted. Seats are also finished. Downstairs the new window frames are in and lighting has been fitted with work continuing on the seats. The cab has been refurbished and awaiting the drivers seat to go back. The engine isfor repairs, including to a cracked block. Meanwhile the area around the engine area has been totally renovated, painted and rewired.

---