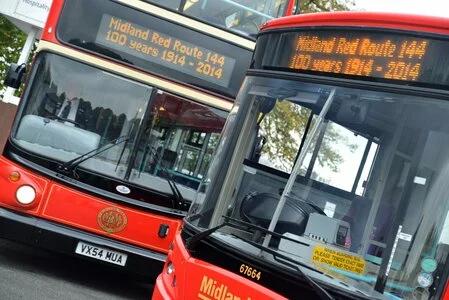 We were privileged to attend an event in mid-October to showcase  two buses that First Midlands has repainted into 'heritage' Midland Red liveries. The Worcester-based buses have been painted to mark 100 years of bus services in Worcester and also 100 years of the 144 route, which over the years had linked Birmingham with Worcester and Great Malvern.
A Trident 33404 (VX54MUA) has received the red and cream lined Midland Red livery carried by pre-war FEDD and REDD buses, whilst Enviro 300 67664 (VX05LWH) carries the last style of Midland Red carried before Midland Red became part of the National Bus Company and the traditional red livery gave way to Nation Bus Poppy Red colours.
To mark the 'launch' of the re-liveried vehicles they went on a tour around Worcester, joined by a surprise addition from the BaMMOT collection at Wythall. 
The two First buses along with a wider selection of historic Midland Red vehicles were then displayed at Worcester Racecourse.
These vehicles continue a trend this year where several First companies have painted buses in historic liveries, which should be commended.
---