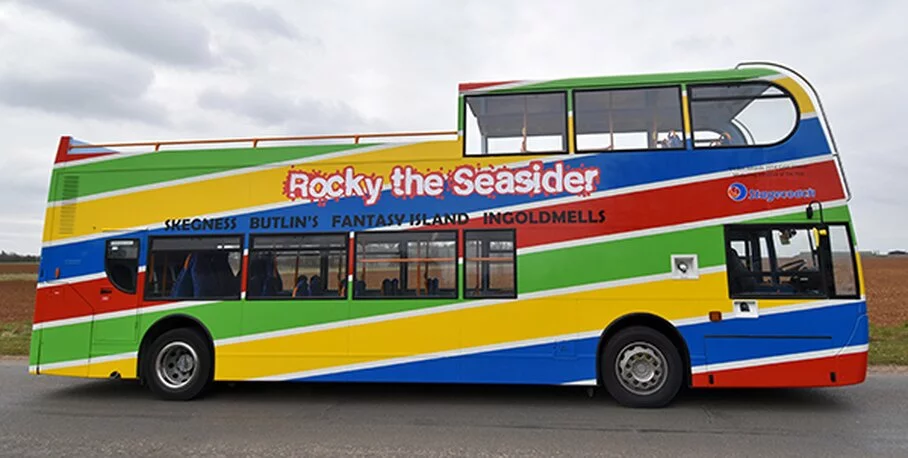 Stagecoach East Midlands (ScEM) has added an open top Enviro 400 to its Skegness Seasiders fleet. The bus is the first ADL Enviro 400 to be converted from a closed top bus to open top within Stagecoach is is believed to be the first for any operator. Seating 82 passengers the bus has also been fitted with PA and a CD player. It was new in 2007.
It was acquired by Stagecoach East Midlands last year, after losing its roof after hitting a low bridge in Balloch. The conversion work has been undertaken at ScEM's Deacon Road workshops in Lincoln. It is to part open top configuration and includes deep padded searing on the upper deck.
The Enviro 400 (19169) has also gained the name Rocky, previously carried by an open top Dennis Trident, which was withdrawn from service earlier this year.
Stagecoach East Midlands has transformed its Skegness sea front service into part of the holiday experience, rather than just a bus service, by turning the buses into characters and naming them whilst also supporting them with a series of story books which are sold for charity. In 2014 it won Gold at the UK Bus Awards in the Marketing Initiative of the Year for its Skegness Seasider project.
Stagecoach East Midlands Skegness Seasider fleet comprises nine open top buses, five Tridents with ALX400 bodywork, two Wright Gemini Volvo B7TLs, one Enviro 400 and a Alexander-bodied Volvo Olympian. 2016 will be the last season that the Tridents and the Olympian are used with them being replaced for next year. A further three open top Volvo B7TLs are also operated, two in Cleethorpes under the Cleethorpes Seasider name and one in Lincoln which works the city tour.
SKM was allowed access to the 'facelifted' Rocky earlier this week and we are pleased to share some of our images with you, together with a comparison image showing the old and the new Rocky!
Stagecoach East Midlands is planning a fun day in Skegness on Tuesday 29th March, when Rocky will be making his first PR appearance.


---