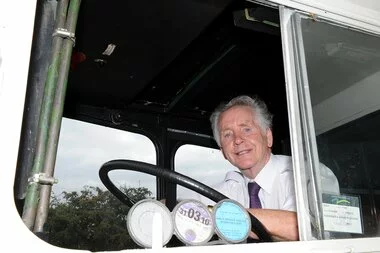 One of our friends at Stagecoach is Peterborough-based Joe Somers who has driven the Bristol FLFs and the Megadekka on many of the tours we have been involved with. So we are pleased to report that he has received a Special Commendation for Outstanding Service at this years' UK Bus Awards.
Joe had been shortlisted in the Unsung Hero category for which the UK Bus Awards nomination read:

Joe Somers joined the bus industry in 1960 as a conductor because he was too young to be a driver, an ambition he fulfilled four years later. And in 1991 he became the first bus driver to pass the Institute of Advanced Motorists driving test in a double deck bus. He then went on to hold various roles at what eventually came Stagecoach East in Peterborough until starting his current role as Revenue Inspector and Customer Relations Officer ten years ago.

Joe has also been involved with schools in the area promoting good bus etiquette, and investigating any issues or complaints on behalf of the schools.

Although Joe works on a part time basis at the moment he still spends countless hours out of his personal time promoting the company and the benefits of public transport. Undeterred by his age Joe can still be found in full uniform carrying out his revenue inspecting on a Saturday afternoon.
​
Well done Joe!
---