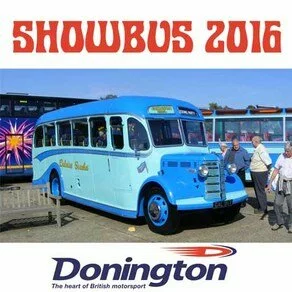 I was highly critical of the organisation at this year's Showbus Rally at Woburn Abbey. I don't intend to dwell on the failings of the Rally this year again. The gut reaction of the organisers back in September was that the future of Showbus could be in doubt.
Those feelings are unfounded as a few days ago came the announcement that Showbus will be back in 2016 with a new venue in the East Midlands.
Showbus 2016 will be held at Donnington Park and the organisers have made the following announcement.
"The venue for Showbus 2016 is Donnington Park, the first permanent Park Circuit in the UK and home to the largest showcase of Grand Prix racing cars in the world. It is also home to an extremely popular Sunday Market.
"The venue for Showbus 2016 is not the race track itself but an adjacent purpose built site owned by the Park and immediately to its west. The site boasts over 4000 square metres of tarmac and separate entrances for cars and exhibitors which should overcome the shortcomings of the nonetheless beautiful setting of last year's Woburn Abbey display.
"Coach operators will be able to combine a visit to Showbus with the nearby shopping centres and attractions of Nottingham, Leicester or Derby.
"Building on the success of last year's new format brochure a similar brochure, with more pages will be available for 2016. Feature articles will include travels by Megabus and the story of Crusader Holidays. All entrants will receive a free limited edition version, but for those buying the standard edition it will have a lucky number linked to some exclusive prizes.
Showbus is an event that has, and always will be, run for enthusiasts by enthusiasts. We aim to stage an event that is unrivalled and hope that the new venue will offer our visitors value for money as well as a new range of displays and attractions".
We wish the organisers all the best and hope that they can overcome the disappointment faced by many exhibitors at this year's Woburn event. They will no doubt have lost a number of exhibitors but the new location may open up the opportunity to attract entrants that have previously given Showbus a miss due to its location.



---