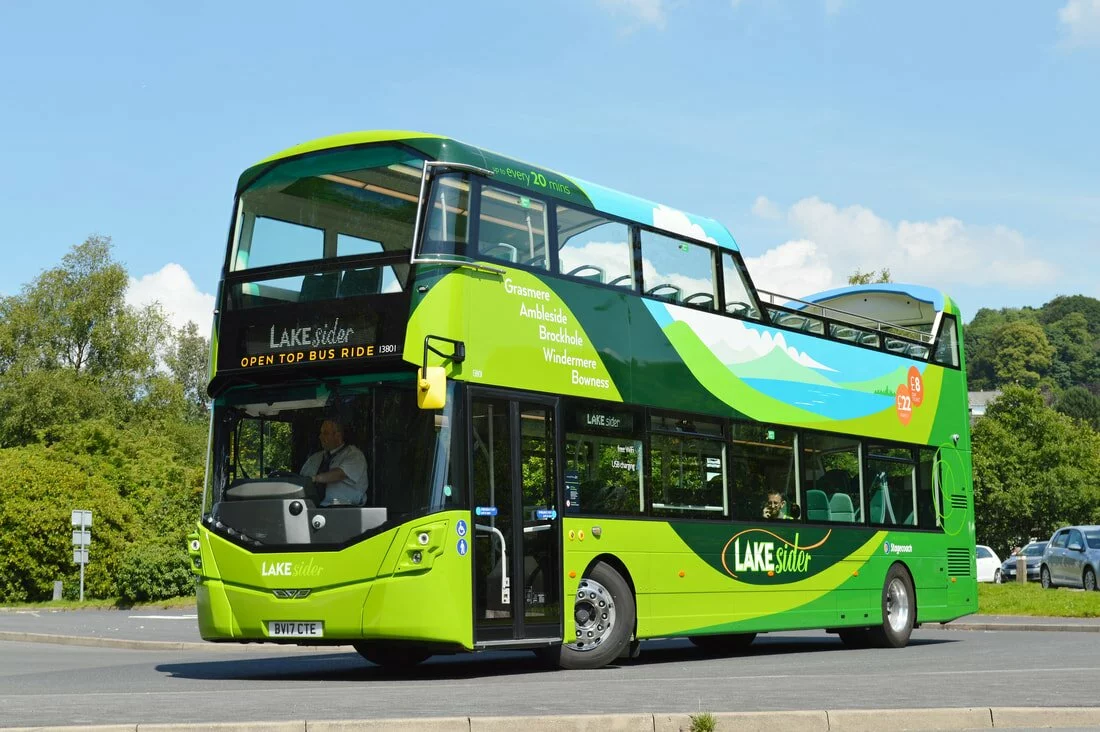 On Saturday 26th May, between 10:00 and 16:00, Stagecoach Cumbria &n North Lancashire is opening the doors to its' West Cumbria (Lillyhall) bus depot for an exclusive look behind the scenes!
Regular shuttle buses will be operating from both Workington Bus Station and Whitehaven Town Centre to thel depot using a mix of heritage and modern buses.
On display will be a large number of vintage vehicles, including many built just over the road at the Leyland factory in the 1970s and 1980s. As well as vintage buses there will also have some of the most modern vehicles available, including one of the 'Lake Sider' Open Top vehicles that is used in the Lake District.
Refreshments will be available and there will be a number of transport related stalls.
You will be able to take a ride through our bus wash in a double decker bus (Stagecoach promises not to use an Open Topper!). You can also have your name in lights on the destination display on the front of one of the buses.
Event Location:
Blackwood Road
Lillyhall Industrial Estate
WORKINGTON
CA14 2JW
Parking is not available at the depot, so please use one of the shuttle services from Workington or Whitehaven or alternatively the Stagecoach Gold 300 or 302 services which will stop and pick up outside the depot.
Stagecoach adds that if anyone would like to attend with a vehicle or a trade stall then they should send an email to
[email protected]
The event is free to attend.
Vehicles expected to attend (subject to availability) are:
FAS982        Albion Victor LT                                       Jersey Motor Transport          Spencer Graham Coaches
FYD864T     AEC Reliance - Plaxton Supreme           Red & White                             McCalls Coaches of Lockerbie
H132GVM    Dennis Dominator - Northern Counties  Magic Bus                                 Preserved
tbc                Dennis Trident - ALX400 Open Top       Newcastle Citysightseeing    Stagecoach North East        
tbc                Alexander Dennis - Enviro 200 MMC    Stagecoach                              Stagecoach Manchester550 Group 
PHH149W    Bristol VR                                                  Cumberland                            Brian Pritchard/John Burrow
P545PNE    Mercedes-Benz - Plaxton Beaver 2        Osprey Bus                              Preserved
X805SRM    MAN 18.220 - Alexander ALX300           White                                         Workington Transport Heritage Trust
CEO956      Leyland PD2 - Park Royal                        Barrow Corporation                 Preserved
G186JHG     Leyland Olympian - Alexander                Stagecoach Stripes                 Preserved
TRN481V     Leyland Atlanteen - ECW                         Ribble                                        Preserved
CHH210T    Leyland National MK1                               CMS Poppy Red                      Workington Transport Heritage Trust
WHH556S   Leyland National MK1                               REV 01                                      Workington Transport Heritage Trust
GRM353L    Leyland National MK1                               NBC Cumberland                    Workington Transport Heritage Trust
SHH389X     Leyland National MK2                               Western Scottish                     Preserved
CEO720W   Leyland National MK2                               Barrow Corporation                 Workington Transport Heritage Trust
TSJ64S       Leyland Leopard - Alexander Y Type      Western Scottish                     Preserved
DAZ3294     Leyland Tiger - Plaxton                             National Express                     Preserved
PIJ5170        Leyland Tiger - Duple Caribbean            Robinsons of GT Harwood     Preserved
54076         Volvo B12B - Plaxton Panther                  Stagecoach                              Stagecoach MSL
tbc                Volvo B5 - Wright Gemini Open Top       Lake Sider 599                         Stagecoach CNL
FTV10L       Volvo B58 - Duple Dominant                   Border Bus                               Preserved
RIG7105       Volvo B10BLE - Wright Renown             Ellenvale Coaches                   Ellenvale Coaches
IIW828        Volvo B10M - Jonckheere Deauville      Ellenvale Coaches                   Ellenvale Coaches
L948CRU    Volvo B10M - Plaxton Premiere              Primrose - Black/White           Workington Transport Heritage Trust
N814DNE  Volvo B10M - Alexander PS                    Express Motors                        Ian McKnight
L948CRU    Volvo B10M - Plaxton Premiere              Primrose - Black/White           Workington Transport Heritage Trust
K779DAO    Volvo B10M - Alexander PS                    Yellow & Green                        Workington Transport Heritage Trust
tbc                Volvo B10M - Alexander PS                    School Runner                         Stagecoach CNL
R983XVM   Volvo B10M - Alexander PS                     Training                                      Stagecoach CNL
E50TYG      Leyland Royal Tiger                                   RIDINGS TRAVEL                   Preserved
---