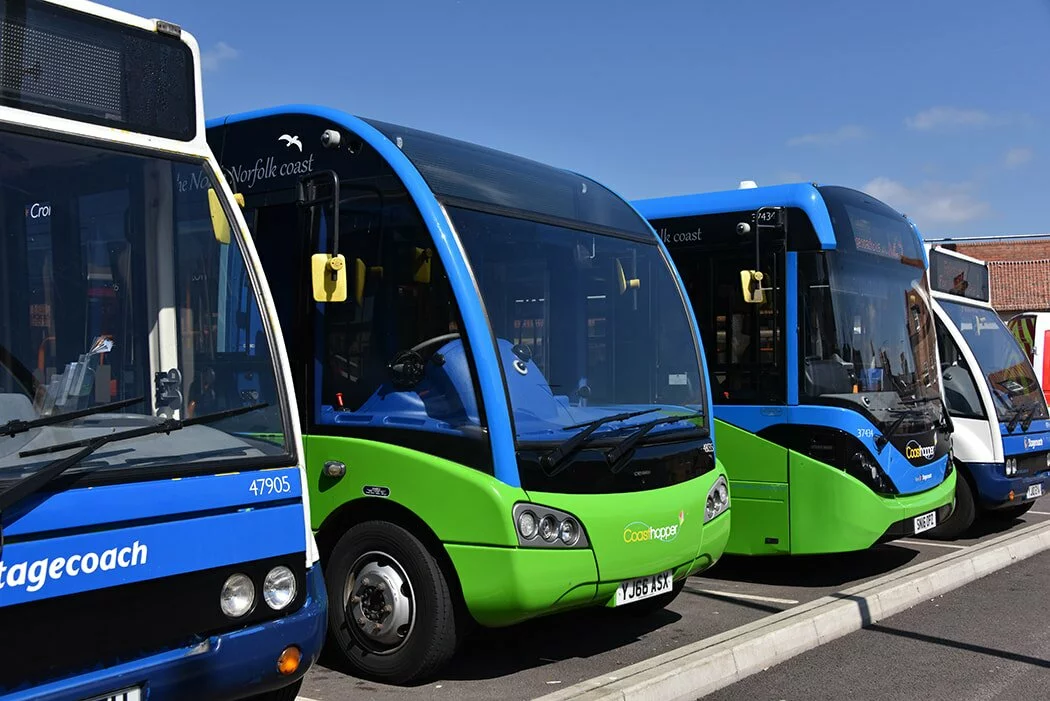 ​
This blog post was last updated on Wednesday 7th February 2018 at 11:20. All updates made since 7th February are now shown in red.
Stagecoach has announced that it is consulting on the future of its King's Lynn depot, which operates services in West Norfolk and also to Spalding in Lincolnshire.
​
Closure is one of the options which forms part of the review, which was launched as part of a 90-day consultation period with staff yesterday (January 30th 2018). Stagecoach says it is working with Norfolk County Council on how as much of the local network as possible can be protected. Stagecoach says the review is in response to the challenging economic environment.  
The company says: "A combination of rising operating costs and pressure on public sector budgets which has affected investment in buses has impacted the financial sustainability of the business".  
The latest accounts for the company, obtained this week by Steven Knight Media show that in the year to 29th April 2017 the Norfolk business had a revenues of £7.6m and recorded an operating profit of £65,000 which after tax was £30,000. This was an improvement on the previous year when revenue was £8m with an operating profit of £76,000 and after tax of £3,000.
The King's Lynn operation was acquired by Stagecoach with the takeover of Norfolk Green in December 2013. Currently the operation has an allocation of 58 vehicles with a peak vehicle requirement of 51. Additionally there are a further 19 vehicles in the Reserve Fleet, which includes those required for the seasonal uplift in services.  
Whilst Stagecoach says that nothing has been confirmed it does say that the consultation with employees is over the potential closure of its King's Lynn depot. Steven Knight Media understands that both the Hamlin Way depot and the traffic offices in King's Lynn bus station are leased.
However, Stagecoach is also working with Norfolk County Council on potential steps to protect as much of the local network as possible. The company said that, along with the local authority, it would keep customers updated on developments as the review process continues.
Stagecoach says it hopes that the majority of staff could be relocated with other operators or elsewhere in the Stagecoach East business within the surrounding area. Employees at the site will be able to discuss their preferences with the management team and the company will be working hard to accommodate these over the coming weeks.
​Information is emerging, unconfirmed by Stagecoach, that suggests the Long Sutton outstation along with the 505 service linking Spalding and King's Lynn as well as some services in the Wisbech area will be retained by Stagecoach and consolidated as an outstation to its Peterborough operation.
Norfolk-based Konectbus has announced plans to introduce a new Fakenham-Norwich bus route during April 2018, which is understood to be a replacement for the hourly Stagecoach X29 service. Konectbus says details are to be confirmed, but it will operate at least Monday to Saturday on an hourly basis. However, it has subsequently emerged that First Eastern Counties will extend its Yellow Line route (Norwich-Taverham) from Taverham through to Fakenham, as route X29, from the start of April 2018. First will provide a basic hourly weekday service, with extra peak journeys. On Sundays a two-hourly service will operate. 
Meanwhile, Coastal Red, which operates in West Norfolk under the Lynx name has said that f
ollowing the announcement on 30
th
January 2018 that Stagecoach in Norfolk is looking at closing down its' King's Lynn based bus operation, Lynx are now looking into the viability of providing replacement bus services. 
Julian Patterson, Director at Lynx said "We don't envisage that any locations that are currently served by Stagecoach in Norfolk will be left without a bus service from 30
th
April 2018. However, due to the relatively short timescales involved it's possible that any replacement bus services that we introduce may not initially operate quite as frequently as they do at the moment." 
Additionally, Lynx are now working closely with Norfolk County Council regarding the existing Stagecoach bus network, including those services which are subsidised by the County Council.
​
Julian Patterson also stated that "As a result of the likely expansion of our business in the near future we will welcome job applications from those with the PCV (bus) driving entitlement on their licence including those that currently work for Stagecoach, providing that they can demonstrate high standards of customer care and driving abilities." There are also likely to be a small number of engineering and cleaning positions.
Andy Campbell, Managing Director, Stagecoach East said: "We are a significant local employer and we understand the importance of bus services for the local community. We also know that any change can be unsettling for our people. That's why we are working closely with both the trade union and local authority to protect as many jobs and as much of the local network as possible.
"We're carrying out a consultation and will be working liaising closely with staff during that process, however the reality is that we simply cannot sustain the current operation given the challenging economic climate that we're faced with."
A spokesperson for Norfolk County Council added: "It's disappointing that Stagecoach have come to the conclusion that they can no longer operate sustainably in West Norfolk and we are sorry to hear this news. However we will work as closely as we can with them to ensure passengers are kept informed of changes and the network is covered by alternative providers as much as possible."
Bus Union RMT is demanding assurances on jobs and services after the Stagecoach announcement.
RMT General Secretary Mick Cash said: "RMT officials are in urgent discussions with Stagecoach after this bombshell announcement which leaves jobs and services in Norfolk hanging by a thread. It is essential that Norfolk County Council join us in working to protect these lifeline services to thousands of people across their area.
"Stagecoach has only operated Norfolk bus services since December 2013 and serious questions need to be asked as to exactly what has gone wrong and why.
"RMT's absolute priority is to protect our members and the lifeline services they provide to the local community and the low income, eldery and vulnerable groups without access to a car who would be condemned to lives of transport poverty if routes are axed.
"In the wake of the Carillion collapse here we have yet another example of what happens when privatisation and profit is allowed to take priority over public service.  Bus services are already being slashed and axed across the country as private operators cherry-pick the profitable routes. This scandal must end and RMT will continue to fight for accessible bus services for all."  
The King's Lynn fleet comprises of:
8 Tridents
9 Enviro 400s
6 Optare Tempos
2 Optare Versas
6 Enviro 300s
9 Enviro 200MMCs
7 narrow bodied Optare Solos
11 Solo SRs
Additional 10 Optare Solos and 9 Tridents are in the Reserve and Seasonal Reserve fleets.
---