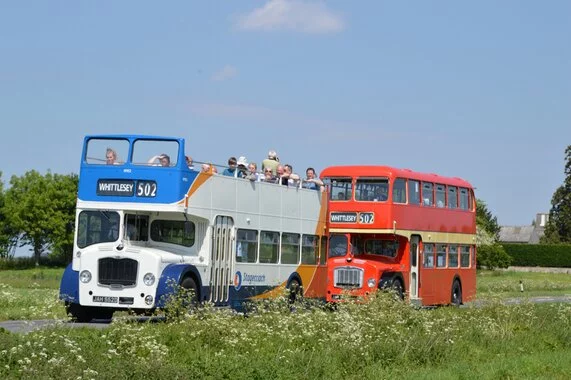 The pair of Stagecoach-owned Bristol FLF double deck vehicles proved to be extremely popular at the Fenland Vintage Vehicle event, held on Saturday 17th May 2014.
Will wall-to-wall sunshine and a clear blue sky the Open Top vehicle was the firdt choice for many families taking a trip back in time between Whittlesey and Thorney.
Offering a bonus for photographers, it was arranged for both FLFs to operate the route, with one forming a 'Relief' journey. This gave the sight of two double deck buses dating from 1966 operating together along Fenland roads.


Both buses now sport 'older style' 'white on black' destination blinds capable of

displaying appropriate destinations when used at special events.
Special thanks are due to Stagecoach East and Stagecoach Midlands and the staff at Peterborough and Kettering depots, who made the vehicles available for the day and the staff who volunteered to work them.

---