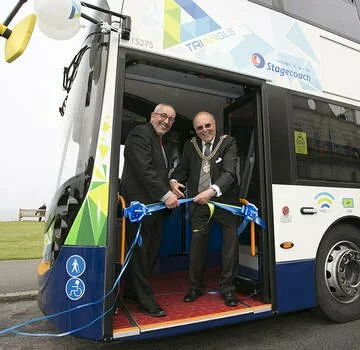 ​We receive dozens of press releases and statements from bus, coach and rail companies every week and in the main we are expecting them. Occasionally a press statement arrives which was takes us by surprise and that was the case yesterday.
 
The announcement from Stagecoach Group was that Stagecoach South East Managing Director Philip Norwell will leave the business next week after clocking up some 43 years' service in the bus industry.
 
Now Philip has been extremely supportive of our activities and we dealt with him extensively during his time with the original Stagecoach East (when Peterborough and Cambridge were managed from Northampton along with the former United Counties empire) and the later Stagecoach East incarnation which covered Peterborough, Cambridge and Bedford.
 
Philip began his career at the National Bus Company subsidiary Eastern Counties in Peterborough in 1974, and worked for a number of years as a driver and worker director until the company was taken over by Stagecoach.
 
Philip was always forward looking and his creativity saw many new services launched. He also masterminded the introduction of the Cambridge Citi and Peterborough Citi networks.
 
He became Marketing Officer for Stagecoach Cambridge in 1997 before becoming Commercial Director in 2002.
 
Philip was always forward looking and his creativity saw many new services launched. He also masterminded the introduction of the Cambridge Citi and Peterborough Citi networks.
 
Philip was a huge supporter of heritage operations and took the two Bristol FLFs at Stagecoach East under his wing ensuring that they were used on a regular basis. I have conducted both the open top and closed top FLFs in service on numerous occasions with Philip driving whilst also assisting him and other Stagecoach staff at the Silverstone (British Grand Prix) Park & Ride operation.
 
He also promoted the case for the repainting of the Leyland Olympian Megadekka into original Stagecoach stripes livery, a move that gain the approval of Stagecoach founder Sir Brian Souter.
 
I also had the pleasure to work with Philip over the last fifteen years or so in a professional capacity whilst at Virgin Trains when the Luton Airport-Milton Keynes rail link formed part of the West Coast rail franchise agreement. But as a journalist there were also occasions when some difficult questions were posed.
 
Philip was appointed Managing Director of Stagecoach South East in 2013 and oversaw the transformation of the business gaining Group investment in new vehicles to replace a significant number of non-DDA step floor saloons and double deck vehicles. He even took several Dart SLFs into the South East fleet from Peterborough where in 2004 he had overseen their introduction when new onto the Peterborough Citi network.
 
He also has a number of heritage vehicles to keep him occupied and even arranged the repainting of the last Mercedes 709D minibus in the fleet into its original Stagecoach stripes livery.
 
Stagecoach UK Bus Managing Director for England and Wales, Mark Threapleton, said: "I would like to thank Philip for the sterling work he has done over many years to deliver improvements for bus passengers across the east and south east of England in particular.
 
"He has made a valuable contribution to the business and we wish him well in the future."
 
Philip Norwell added: "I have reached a milestone in both age and achievements and have decided it is time to move on. I have worked with some fantastic people over the years and it has been a real privilege to have been involved in some of the innovative projects we have delivered together and the many improvements we have made for customers. I wish the team in the south east every success going forward."
 
And I personally and through SKM wish Philip all the best for the future.
 
A recruitment process for the position of Managing Director, Stagecoach South East is underway. Until an appointment is made, the South East business is being managed on an interim basis by Mike Watson, Regional Director - England & Wales.

---