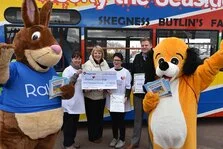 Stagecoach East Midlands held a Fun Day in Skegness yesterday with Enviro 400 19169 Rocky and Volvo B7TL 16964 Rolly taking centre stage near the lifeboat station. The buses, which have become characters in their own right were there to promote the open top services and also help to raise money for charity during their appearance through the sale of children's story books which feature the open top buses.
During the day a donation was also made by Stagecoach of £1,000 to the Dreams Come True charity. Rolly was also offering tea ad cakes in aid of the charity.
Other Skegness Seasiders were in service, including the last open top Volvo Olympian in the Stagecoach East Midlands fleet - 16314 Hattie.

---