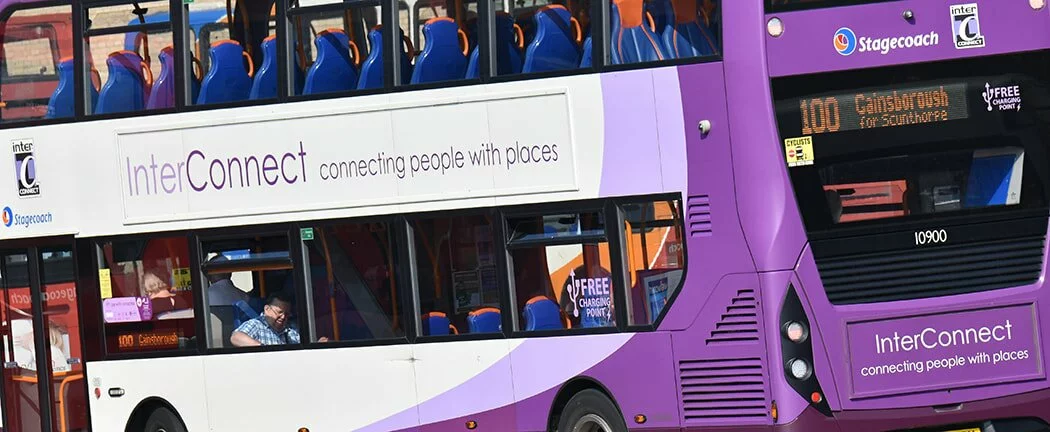 Back in January Stagecoach unveiled its new image with three distinct bus and coach liveries. But, it wasn't long before the OpCos in Manchester and Cambridge created two more for provincial electric buses, although the both did have a hint of the Ocean Green colour from the 'Specials' livery.

So that makes five…..

But that's not the end of the story. News reached us from the East Midlands that buses were still being painted in the purple/violet InterConnect livery which is based on the former Stagecoach 'Beach Ball' livery. Head further north and the Cumbria & North Lancashire business is still painting buses in the very attractive Lakes Connection livery. Back to Cambridge and the Busway brand is being applied to Cambridgeshire Busway vehicles which now carry all over Ocean Green livery, rather than the 'Specials' version of the new livery scheme (in fact as far as we are aware no buses carry the 'Specials' Ocean Green livery - the Enviro 200MMC used for the livery launch was rapidly repainted into the 'Stagecoach Local' livery within days).

But now it seems, although we have no official confirmation from Stagecoach, that where there is a recognisable and strong brand already in use then it can continue to be used. We would expect this to include Stagecoach East's X5 and Park & Ride brands, Stagecoach East Midland's InterConnect and Pronto brands, Stagecoach Cumbria & North Lancashire's Lakes Connection and Cross-Pennine liveries and branding. Add to that Megabus and Oxford Tube.

But let's not forget there is a national brand, a brand that in some areas outnumbers buses in corporate livery - Stagecoach Gold.
We suspect that there is now dispensation for this brand to continue to be used. If that is the case then it is bad news for the team at Stagecoach Oxfordshire who were refused new buses in Stagecoach Gold livery last year and now operate Enviro 400MMCs in the old corporate livery on routes previously marketed under the Stagecoach Gold banner.
​
If our assumption is correct and lots of existing liveries and brands can be retained it makes a mockery of the new Stagecoach identity.

---