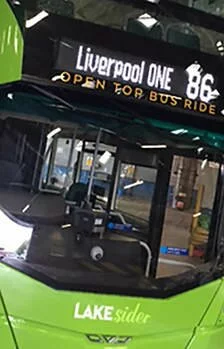 Bus companies have an ideal marketing tool. Their own vehicles. Some make good use of the resource whilst others alienate passengers, and prospective passengers, by mastering advertising and branding graphics over the windows. 

Stagecoach Cumbria & North Lancashire has a fleet of new open top buses which carry a strong marketing message. And we hear the company is to make the most of its mobile marketing tool.

Steven Knight Media hears that there will be a unique opportunity to photograph and travel on one of the new Volvo B5TL/WrightBus Gemini Lake Sider open top vehicles away from their normal operating area next week. The operation is to promote the Lake Sider services.

The company has confirmed that one of the vehicles will be operating out in Manchester on Monday July 24th 2017, Liverpool on Tuesday July 25th 2017 and Preston on Wednesday July 26th 2017.

On the Monday in Manchester it will see use in service on the 192, 203, 250 and X50 routes whilst on the Tuesday in Liverpool it will be used on services 82 & 86. In Preston on the Wednesday it will be used on service 2.
​
The company says that this will be a unique one off opportunity to travel on and photograph one of these new vehicles in service outside of Cumbria.
---