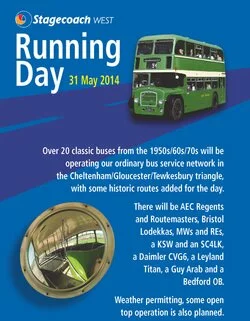 Stagecoach West has announced more details of its Vintage Vehicle Running Day on Saturday May 31st 2014. It will be publishing information bulletins on its website and has also released details of the special timetables for the day. The first bulletin is reproduced here and you can also download the timetables using the link below.
We would urge you to check with the Stagecoach West website (www.stagecoachbus.com/cheltenham) for up to date details and also a list of the vehicles attending.
Welcome to the first Stagecoach West bulletin containing the provisional details about the event which is designed to commemorate the 85th Anniversary of the Cheltenham District Traction Co and also mark the retirement of Stagecoach West Managing Director, Ian Manning, who has led the Company for  the last 11 years.
We hope you will enjoy what we have in store for you which is designed to provide a number of Classic Buses from the 1950s/60s/70s, mostly with conductors, in service on our ordinary route network for the day in place of the modern buses normally in use.
Most of the routes are in a triangle bounded by Cheltenham, Gloucester, and Tewkesbury and in addition to the ordinary services, we have  reintroduced a historic route 541 from Cheltenham to Tewkesbury via Bishop's Cleeve for the day and additional journeys over and above the normal Service 71 journeys will run as Service 535 (the old BOC route number) between Gloucester  and Tewkesbury. Service X94 which normally only runs on Mondays t Fridays between Cheltenham and Gloucester will also enjoy a special half hourly frequency for the day.
Classic buses will also operate on Service 43 between Tewkesbury and Bishop's Cleeve with some journeys on Service D (Bishop's Cleeve-Cheltenham-Hatherley/Warden Hill) and half the daytime runs on Service 41  from Cheltenham to Tewkesbury and Northway.
Most of the routes interconnect in Cheltenham, Gloucester and in particular Tewkesbury but there are various other places where you can change buses as well.
The Classic Buses will generally operate from about 0900 until 1900 hours with a few earlier and later journeys. Weather permitting, some journeys will be operated by Open Top buses. In addition it is hoped to run a
free bus service from Cheltenham Promenade (Civic Offices side) to the Gloucestershire and Warwickshire Railway Station at the Racecourse using a  preserved left hand drive AEC Regent III of Carris, the Lisbon urban bus operator.
Ordinary fares will be charged on the Classic Buses and visitors  are encouraged to buy the Stagecoach West Explorer Ticket priced at £6.50 which  will provide excellent value for the day on all the vintage operations as well as on all Stagecoach West's other routes. There are Family and Group versions of the Explorer Tickets additionally available priced at £14 respectively.
At 2000 hours, Ian Manning will drive the Service 94 from Cheltenham to Gloucester, returning from Gloucester at 2040 hours and arriving in Cheltenham for the last time at 2110. These journeys will be duplicated as required in accordance with passenger demand.
---
stagecoach715_running_day_tts_v3.pdf
File Size:
68 kb
File Type:
pdf
Download File
---