We have recently located a number of items from our early career in the bus industry.
​Coventry Transport was taken over by the West Midlands PTE in April 1974 but it was over 12 months later when the PTE published the first timetable book for what had become the East Division of the PTE. No glossy, high value, book here though. Although the introduction pages were typeset the main timetable pages were taken straight from the master typewritten timetables that formed part of the service registration documents that were photocopied and sent to the Traffic Commissioners. Like most of Coventry Transport's and early WMPTE East Division's printing at the time it was printed by Parbury's of Raglan Street in Coventry.
​From the following year we have an East Division fare table, which again was taken from the typewritten master sheets. Our example table is for the 159 Coventry-Birmingham route which shows that the single fare in 1976 between Coventry and Birmingham was 35p with a single journey from Coventry to Meriden (Green) coating 15p.

There were few 'filler' adverts use in timetable books at the time but a regular one promoted the PTE's Private Hire operation. At the time there was dedicated Private Hire section in the PTE's East Division Schedules Office in Coventry which looked after local Private Hire activity.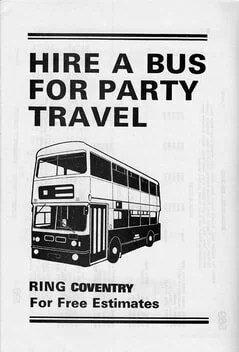 ​Our trawl of our archive material has also uncovered a couple of books of pre-paid tickets. On Monobus routes passengers would put one of the tickets from the book into a 'cancellator' as they boarded whilst on crew-worked routes would hand the ticket to the Conductor, who would cancel it.