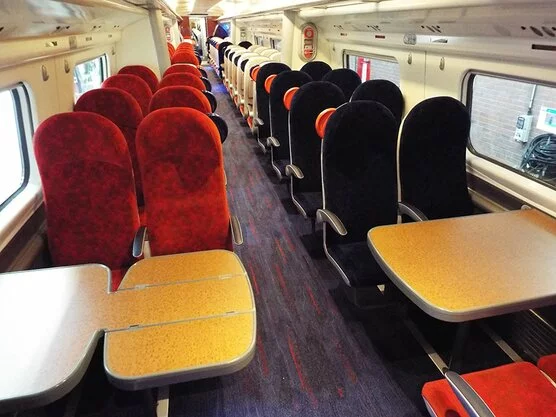 The first nine-coach Virgin Trains Pendolino, 390050, to have one of its First Class carriages converted to Standard is now in service. The train, which also received a major interior refresh and a deep clean as part of the work, marks the first of the 21 nine-car Pendolinos to have carriage G converted. When finished, the project will create an extra 2,100 Standard seats across the fleet providing more than 5,000 extra Standard seats a day.
Phil Whittingham, Managing Director at Virgin Trains, commented, "Our main focus is always our customers and their needs. We have seen demand for our services increase significantly, with more than 34 million journeys made on our trains last year, something that we are very proud of. Converting these First Class carriages to Standard allows us to respond to requests from passengers for more seats on our busiest routes. We've also given our Pendolinos a well deserved spring clean and remain as committed as ever to improving the service we offer to our customers."
The work is taking place at Alstom's depot in Oxley, Wolverhampton, with one train completed a week and all trains converted by September 2015.
As part of a wider fleet upgrade project, each of the nine-car Pendolinos will also receive a major interior refresh and a deep clean when the conversion takes place. The scope of the work is a result of feedback from Virgin Trains employees, customer research and collaborative discussions between Alstom and Virgin Trains and aims to ensure that the Pendolino fleet delivers on passengers' expectations of the Virgin Trains brand.
After the nine-car trains have been upgraded, the remaining 35 eleven-car Pendolinos will also undergo the major interior refresh and a deep clean with the full Pendolino fleet completed by mid-2016.

---