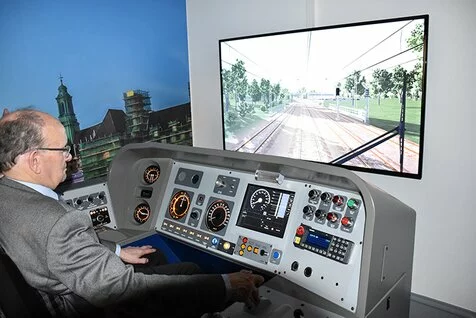 ​Virgin Trains has launched a major recruitment drive for drivers for its East Coast operation, which links London with Leeds, York, Newcastle, Edinburgh, Glasgow, Aberdeen and Inverness.
​
The programme is the biggest single recruitment campaign for drivers on the East Coast since the 1980s.
 
Virgin Trains says it needs to add a further 78 drivers to its books in preparation for the introduction of the new Azumna trains from 2018.
 
"The initiative coincides with the arrival of its new fleet of Azuma trains that are set to revolutionise travel on the east coast, providing an extra 12,200 seats, a new and expanded timetable and increased capacity into Kings Cross by 28% during peak times.  When it launches in 2018, the Azuma, built in the UK by Hitachi, will be one of the most advanced trains on the UK's rail network and Virgin Trains needs 78 drivers to operate the 65-strong fleet.
 
Virgin Trains East Coast also says that it is likely that around a further 75 new drivers will be required over the coming five years to replace existing drivers who will be retiring. Before January this year, when Virgin Trains East Coast recruited 24 trainee drivers, none had been recruited for a three year period.
 
"Recruitment needs to begin now to allow for a year-long development programme before becoming fully-qualified trainee train drivers.
 
"Over the course of the year trainees will take part in a mix of classroom-based and 'on the job' learning at different locations on the east coast route. Modules range from track safety, understanding operational route risks and emergency situations to getting to know the traction they will be driving."
 
New recruits also go through rigorous immersive practical learning including driving on one of Virgin Trains' state of the art simulators in order to familiarise themselves with the cab and build train handling experience.
 
Recently upgraded, Virgin Trains East Coast has driving simulators at King's Cross, Leeds, Newcastle and Edinburgh. They have been programmed with detailed track and station information for the section of lines between King's Cross and Peterborough; Newcastle and Morpeth and the Craignetinny area in Edinburgh.
 
The simulators are based in purpose built training rooms and have a full working cab to represent either a Class 91 or High Speed Train. One of these will be replaced over the next 12 months with an Azuma cab. Currently only one train type can be used at any one time but a further upgrade will allow both to be in use simultaneously.
 
Besides being used for training new drivers, the simulators are also used as part of the ongoing 12-week briefing process for drivers as well as annual assessments. A variety of scenarios can be incorporated and data from the respective simulator sessions can be downloaded and retained, or used to talk drivers through their actions and encourage best practice.
 
Dubbed 'Project Aura', phase one of the East Coast simulator upgrade has seen the installation of a new instructor interface station and new track builder software. Improved observer workstations have also been provided to allow trainees who are not 'driving' the simulator to observe the drivers actions and reactions. The next stage is to enclose the driving desks to give a more realistic of being in a driving cab.
 
All track features, including gradient profiles have been modelled and so have the traction and braking curves of the Class 91 and HST.
 
At King's Cross a pilot ETCS facility - the first in the UK -  has been incorporated into the Class 91 simulator, which will allow training using the fixed block train control system, which does away with conventional trackside signaling. The simulator software, provided by Corys, also have the facility to easily upgrade to moving block ETCS.
 
The simulator will also allow Virgin Trains to fully understand the operating characteristics of the new Azuma trains in real time.
 
Virgin Trains has also revealed that the simulators have also been used to model the effects of engineering work in real time, including requirements for single line working. This has enabled a more realistic scheduling of train services. They have also been used to train drivers in how to coast under damaged sections of overhead line.
 
Clare Burles, People Director at Virgin Trains east coast, said:  "We're getting ready for some really exciting changes and as part of that we want to challenge people's perceptions of rail and shake up just what it means to travel in the UK. The arrival of our Azuma trains is an important part of our plans and we need amazing people to join us on our journey.
 
"It doesn't matter if you have never worked in rail or if you haven't even considered a career as a train driver before, we are looking for people who are not afraid to do things a little differently and want to be part of something innovative and rewarding.
 
"As a train driver with us, you'll not only get fantastic benefits and career development but also spectacular views of the iconic intercity east coast route from a very unique working environment – how many jobs can offer you that?!"
 
Tara Johnson, a driver for Virgin Trains east coast, said:  "I started my career on the east coast route just over nine years ago as a customer service assistant before becoming a train guard. I was really interested in the operational side of the job; I enjoyed working shifts and being onboard a train. The opportunity to apply to become a driver came up and I thought it was the perfect mix of challenge and reward so I went for it.
 
"I haven't looked back. I love the freedom and benefits of the role and there is never a boring day on the job!
 
"It's a lot of responsibility too – the safety of our customers and getting them to where they need to be on time is top priority but the training and support we receive is brilliant.

"Some people ask what it's like to be in the cab solo but it really doesn't feel like that. I always feel part of a team. There's such a strong sense of family across Virgin Trains."
​
Virgin Trains also has a driving simulator for its West Coast business. A fully enclosed Pendolino simulator is based at the training centre in Crewe.
---