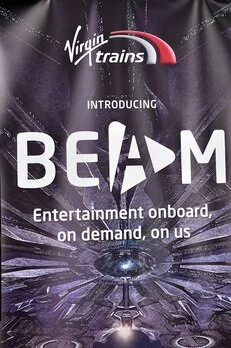 To London's Euston station last Monday, where I was promised the Red Carpet treatment.
Well, there on Platform 16 was a red carpet and I walked the length of it, taken aback that the hoards of photographers and cameramen there ignored me!
So why was I here and what was the Red Carpet for?
In a first for the UK rail industry, Virgin Trains has launched a new on board entertainment service, which is free to use by all passengers.
Available through the Virgin BEAM app on both Apple and Android it gives passengers access on their personal devices to around 200 hours of films and TV programmes as well as a selection of magazines and games. The entertainment selection will change monthly.
The service was launched across all West Coast Pendolino services on June 6th 2016 and will be rolled out on the operators' Super Voyager trains over the coming months. BEAM will also be available on Virgin's East Coast route, although on launch day only one Mk4 set  had been upgraded.
The launch of the service comes almost 20 years after Virgin promised on board entertainment using seat back video on its West Coast trains as part of its original franchise bid. That never happened due to design and installation concerns. It was scaled back to an audio system which itself was abandoned many years ago.
Co-Chairman of Virgin Trains Patrick McCall told us: "The new service is more advanced than the systems currently available on planes as customers use their own devices, which normally have larger screens with better picture quality than standard seat-back devices."
The App will also remember where passengers stopped watching a film or TV programme, if for example they reach their destination, and resume from that point on their next journey.
One downside is that passengers have to download the app before they board the train, as it cannot be downloaded over the train's WiFi network.
The system uses the existing fibre core and access points in the Pendolino trains and has required an update to the onboard WiFi servers including fitting them with cooling fans. Railway Herald understands that the BEAM system is capable of supporting around 200 users at a time watching films and TV content with an unlimited number accessing games and magazines. It is also expected that use of BEAM will reduce the demand on the external  WiFi system, providing users with a more stable signal.
To celebrate its launch, Virgin Trains has partnered with Hollywood blockbuster Independence Day: Resurgence, the sequel to the Oscar-winning Independence Day which is also available on BEAM. An Independence Day: Resurgence train-wrap has been applied to Pendolino 390107 and TV presenter Alex Zane showcased the new train design to film director Roland Emmerich and cast members, Liam Hemsworth and Jeff Goldblum, who each have a carriage decorated with images of their characters on the side, at Euston station on June 6th. The advertising wrap was applied at Alstom's Oxley depot and will remain on the train until December 2016.
---