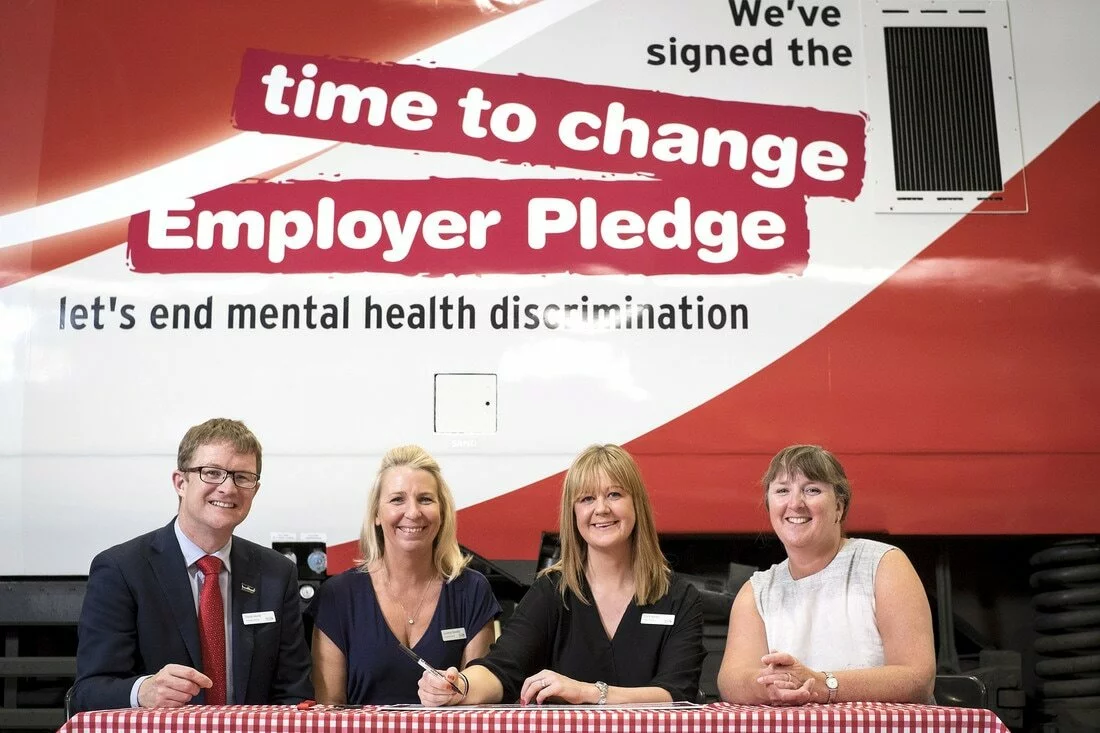 ​Virgin Trains has added 'Time to Change' branding to one of its Class 91 locomotives as part of a pledge in tackling the stigma around mental health.  91132 now carries the special branding.
As a signatory, Virgin Trains will invest over £700,00 a year to improve the physical and mental wellbeing of its people. As part of this investment, the train operator will commit to educate over 3,000 employees in recognising and taking on mental health issues in both colleagues and customers. Time to Change is an initiative from charities Mind and Rethink Mental Illness which look to encourage people to talk about mental health and improve public attitudes towards mental health problems through training and awareness-raising.
In addition, Virgin Trains has appointed two Mental Health Champions who are members of the firm's board, to ensure that the issue is talked about at the highest levels of the organisation. Clare Burles, People Director and Suzanne Donnelly, Commercial Director will advocate for mental health issues in board meetings and develop policy to ensure continued buy-in among senior leaders to support the agenda within their own teams. With its Mental Health First aid courses, the firm will also be training all managers to equip them to better support employees with mental health issues in the workplace. It will also look to roll out this training to all employees in the future.
Sue Baker, Director of Time to Change, said: "We know it can be hard to talk about mental health, which is why we're supporting employers to open up; to talk and to listen. Too many people with mental health problems are made to feel isolated, ashamed and worthless, but with the right support, those of us with mental health problems can recover and have equal opportunities in all areas of life. Everyone's attitude makes a difference and it's fantastic to see organisations like Virgin Trains on the east coast taking the lead.
"Many leading employers have found that making a strategic commitment to the mental wellbeing of their workforce not only benefits their staff but also their bottom-line, improving productivity and staff retention. With one in six British workers experiencing mental illness it's time for businesses to make a change and start creating more mentally healthy workplaces."
Time to Change aims to end mental health discrimination and encourage people to start conversations around mental health. Over 500 businesses have signed the pledge to demonstrate their commitment to implementing a mental health plan and create an environment where employees feel able to discuss mental health.
Time to Change is funded by the Department of Health, Comic Relief and the Big Lottery Fund. Set up to create a positive shift in public attitudes towards mental health problems, Time to Change supports communities, schools and workplaces to open up to mental health problems; to talk and to listen.
---